Gov tries to halt carousel but still thrills a-plenty in the IT circus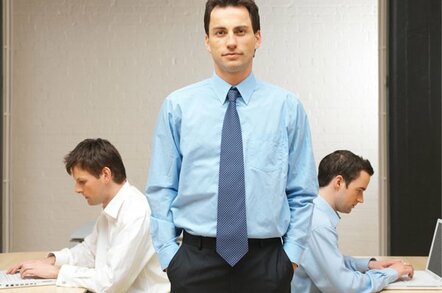 Stop the merry-go-round
"Riding along on a carousel, trying to catch up to you, riding along on a carousel, will I catch up to you?" sang The Hollies way back when. Now the government is doing its best to catch up to those trying to use computer chips and mobile phones for carousel fraud. To combat the practice, which Her Majesty's Revenue and Customs (HMRC) estimates cost British taxpayers as much as £3bn last year, the products will only have their VAT accounted for at the end of the supply chain from 1 June this year.
More swings and roundabouts
On the subject of taxes, chancellor Gordon Brown used his last budget speech to cut the lower income tax band by 2p to 20p and reduce corporation tax to 28 per cent. Although tax on small businesses increased from 20p to 22p, Brown claimed increased allowances for R&D and investment would compensate them. R&D credits are increased by £100m and capital allowances have been simplified to two categories depending on how long assets last.
Dell unhappy with cost of Indian, goes for cheap Chinese
Still on the subject of taxes, Dell chairman and CEO Michael Dell was busy last week lobbying the Indian prime minister and other top officials to reduce tariffs and sales taxes that account for 20 to 25 per cent of the cost of one of its PCs because they are not assembled in the country. But while he railed against the cost of an Indian PC, Dell also announced a low-cost PC aimed at Chinese consumers.
Dell sharpens blade plans
El Reg has also learned Dell is planning to launch a 10U chassis server in the autumn (which holds two layers of eight blades) in its third attempt to make a dent in the market. The design might sound familiar to customers of HP's c-Class chassis which also holds 16 half-height blades and 8 full-sized blades.
Call off the search
Unlike love and marriage or a horse and carriage, Microsoft and security are still having problems going together. First, it emerged that Windows Live Search has an unfortunate tendency to refer users to sites that actively infect machines with malware. Then security researchers reported a vulnerability in Internet Explorer 7.0.
Brainshare might help
Still, Microsoft could always get some hints from new buddy Novell at the recent Brainshare 2007 event. Microsoft, a platinum sponsor at the show, would have heard Novell announce new security products along with a number of Linux developments.
End of the line for SCO claims?
While we're on Linux developments, IBM claims SCO has only managed to identify 326 lines of code in IBM's Linux contributions which it claims infringe its intellectual property rights. IBM also argues most of the offending lines are comments, header files, and other statements that aren't eligible for copyright protection. More here.
Let me hear you say 'Ow' for CD WOW!
Cut-price CD and DVD internet site CD WOW! wasn't singing last week when it was found guilty of parallel importing and contempt of court for selling products from a warehouse in Hong Kong to UK customers after undertaking to stop the practice in 2004. CD WOW! was ordered to pay a fine to the Crown and damages for copyright infringement and legal costs to the record labels that brought the case to the High Court and to the BPI.
Beep beep, here comes the IBM/Cisco recovery truck
IBM and Cisco plan to use a six-wheel truck with a medium-sized network as part of an emergency network and communications service for government and corporate customers. The IBM Management for Crisis Response solution also includes a suitcase-size kit that can be easily deployed and a server rack module.
Move along please, nothing to see here
In a freakishly zoological week for acquisitions, Gateway said speculation it was being bought by Acer was a load of bull while Phoenix IT Group may have ruffled a few feathers by tabling a bid for ICM Computer Group which is also considering a possible MBO.
Arc sails off without Dukes
Meanwhile, senior management in Kaspersky Lab and Perle distributor Arc Technology Distribution successfully completed a MBO from majority shareholder and former managing director Owen Dukes, who is also CEO of server-based software provider Propalms.
Takeover fever takes over
At the same time, there was feverish speculation that Dutch firm Getronics was being prepared for a takeover by telco KPN and Atos Origin was also being targeted. Getronics declined to comment but Atos confirmed it had received offers of interest.
Is DLT really dead?
No, the legendary DJ is still alive, apparently, but digital linear tape may well be. Rick Belluzzo, CEO of Quantum, the company which owns DLT, said it had lost the tape war to the open LTO standard.
Oracle foresees tough times for rivals
On the subject of losers, Oracle CEO Larry Ellison has no qualms about putting his rivals in that category, He used the company's conference call for its fourth quarter results to diss BEA and SAP (maybe he just doesn't like acronyms?) and counter talk that its Unbreakable Linux Network (ULN) Linux support offering was failing. The results were pretty good too.
Taking the piss?
On to more important matters now, the future of the planet. Should we be surprised that many companies in the UK did not sign up to any of the 37 WEEE directive schemes by last week's deadline? Or that the Environment Agency will not take enforcement action against them? Or even that almost half of all SMEs in one survey said they had never heard of the WEEE legislation?
The power plug
Still on environmental issues, NetApp jumped on the green bandwagon last week when it suggested storage vendors needed to do their bit to tackle growing computer power consumption, conveniently plugging its own approach of using higher-yield storage in the process.
BT's shade of green
Keeping it green, we refer to BT's billing service which took St Patrick's Day off this year. Customers were unable to pay bills because the billing system turned a bit green and crashed. Unlike the Guinness, some of the customers were a bit bitter.
Is IT supposed to go red like that?
While we're on the subject of health, the financial well-being of a number of NHS trusts has been damaged by delays in the implementation of the National Programme for IT (NPfIT). As many as 14 have gone into the red as a consequence and the chair of the public accounts committee, Edward Leigh MP, warned that the "prognosis for the financial health of the service is poor".
Don't eat your brussels
To the joy of the UK's notoriously vegetable wary children, brussel sprouts have been dropped from the typical shopping basket used by the Office for National Statistics to create the consumer price and retail price indices. Their elation is likely to be shortlived because brussels have been replaced by broccoli. DAB radios, satnav systems, flat panel televisions and olive oil have also made it into the basket.
Free Red Hat with Intel Premier or Associate badge
On to an item which won't make it into the basket. White-box builders with Intel Premier or Associate accreditations got a nice surprise last week when it was announced they would be able to get a free Red Hat reseller accreditation to let them put RHEL (Red Hat Enterprise Linux) on standard config-Intel servers. Until now, they had to pay a fee.
It's just not cricket
Talk of rising costs brings us to the Cricket World Cup in the West Indies and the fantastic charges being levied for communication services. Journalists are not happy and neither are fans who are having to pay $3 for a cup of water. Let's hope that, like the Pakistan cricket team, no one gets the runs! ®
Sponsored: Minds Mastering Machines - Call for papers now open