The right hand side of the unit houses a VGA out connector and the internal dual layer DVD writer, which Sony has somehow managed to cram inside. The eject button on the drive is very small and hard to locate - but there is an addition eject button on the spine of the machine below the screen. Here you'll also find buttons to launch DVD playback software plus play/pause, stop, fast forward and rewind.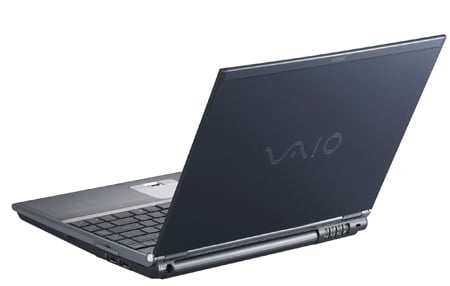 The bulk of the back is occupied by the battery, with an ethernet port on one side and four-pin Firewire socket and power connector on the other. Down the left hand side you'll find a USB port and PC Card slot, plus modem and an additional USB port hidden behind a flap.
At the front there's an SD card slot in addition to Sony's own MemoryStick, wireless on/off switch, buttons for volume control and headphone and microphone sockets. Over on the right hand side below the arrow keys is a fingerprint reader so you can simply swipe your finger instead of having to remember pesky passwords.
What the TX5 lacks in raw performance, it makes up for in battery with a claimed seven and half hours available from a single charge. Depending on your power settings, at least six hours should be easily achievable.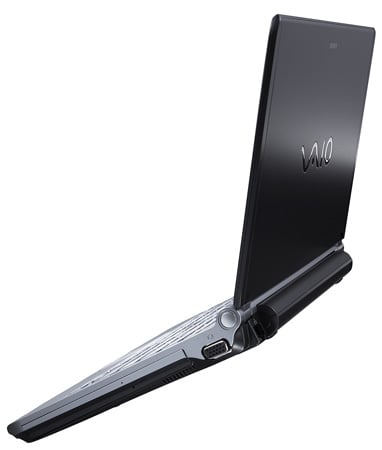 The TX5 is a solid, if a little unexciting, addition to the TX range. The increases in processor speed and hard drive capacity are welcome, but hardly ground breaking.
However, if you need a small, lightweight machine to use on the go it ticks all the boxes and strikes the right balance, offering a decent amount of power in a small but usable machine with reasonable battery life.
Verdict
The TX5XN is a little on the pricey side, but it is a remarkably small laptop for what it contains. The screen and keyboard are usable and it even has a built in dual layer DVD writer. If you're after raw power, then you'll have to look elsewhere but if you want something with enough oomph to get things done that you can also carry with you everywhere you go then it's a great travel companion.

Sony Vaio VGN-TX5XN laptop
The TX5XN is solid, if a little unexciting. Small enough to take everywhere, yet big enough to do some real work on
COMMENTS
Don't forget...
The comment about the proximity of the touchpad was unfair. If I recall, it uses a Synaptics touchpad which has a 'palmcheck' feature to prevent this problem.
Also, no mention was made of the 'instant' multimedia capabilities - you can play a dvd without even booting up windows (unless this has been removed from the latest TX models, but I doubt it).
If you've been put off by this review, trust me - pop into PC World (can't believe I just said that !) and play with one, you'll fall in love.