Sony Vaio VGN-TX5XN laptop
Small, but perfectly formed...
The TX5 is capable of running Vista's glass Aero interface, but it only just ticks all the boxes of Vista capability. Its Windows Experience Index only notches up a score of 2.0 - held back by poor graphics performance, as the lowest sub-score determines the overall score. Looking at the individual categories it achieved 2.9 for processor, 4.2 for memory, 2.0 for graphics, 2.7 for gaming graphics and 3.9 for hard disk. PCMark05 performance was also fairly disappointing, with it only managing to achieve a score of 1,508.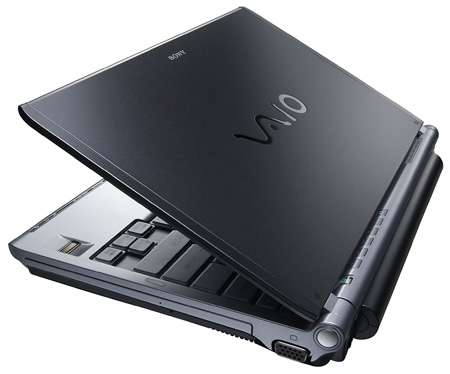 However, a machine like this is more about portability than raw power - an area in which it excels. It measures just 27.2cm wide by 19.5cm deep and when closed is a mere 2.1cm high. With that kind of footprint, it's the sort of machine you can carry with you in your bag wherever you go. It's also light at only 1.25kg so it shouldn't weigh you down to much while you're out and about.
Despite its diminutive dimensions it's an incredibly usable machine. The 11.1in screen has a widescreen resolution of 1,366x768 giving you a decent amount of screen real estate to work with. The screen uses Sony's X-black LED technology, which is slightly reflective but does create fantastic results.
The screen is also only a mere 4mm thick, but it's thankfully shielded by a carbon fibre lid which should protect it against damage. The hard drive is also protected by a motion sensor that can park the head if the laptop is dropped to avoid damage.
Open it up and the keyboard fills the bulk of the unit. The keys are a decent size - letter keys measure 16x16mm - so typing at a decent rate isn't a problem. The touchpad sits at the bottom of unit, quite close to the space bar so if you're the sort of person that is prone to accidentally brushing the touchpad when you're typing and inadvertently moving the cursor then you may want to avoid the TX5.
Sponsored: Minds Mastering Machines - Call for papers now open