Sony Vaio VGN-TX5XN laptop
Small, but perfectly formed...
Review If you like the idea of a laptop that you can cart about with you, but want something with a bigger screen and keyboard than the tiny Sony UX1XN, then the TX5XN could be just what you're looking for. It's small enough to accompany you most places you go, but still has a decent sized screen and keyboard so you can get some proper work done.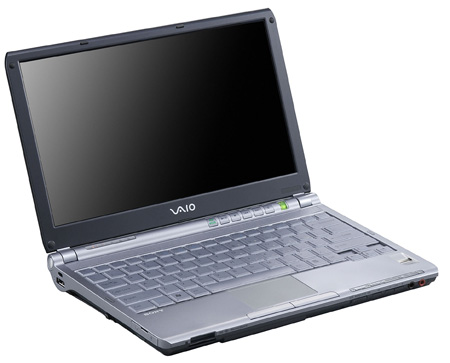 The TX5 is the latest incarnation of the TX range although it's more of a slight iteration compared to its predecessor - the TX3. The TX5 runs Windows Vista Business rather than XP Pro and on some models the processor is a bit faster and the hard drive is a little bigger, but other than that there's not that much that sets it apart from its sibling.
The TX5 range comprises of three models - the cheapest is the TX5MN at £1,499, followed by the TX5XN at £1,699 (reviewed here) and finally the top of the range TX5VN at a whopping £1,999.
Both the XN and VN models feature an Intel U1500 Core Solo ULV (Ultra Low Voltage) processor running at 1.3GHz and a 100GB hard drive. The cheaper MN version only features the U1400 Core Solo ULV processor clocked at 1.2GHz and 80GB hard drive - the same as the TX3XP model.
The main difference between the XN and VN versions is the amount of DDR2 RAM - the VN comes with 2GB as standard, while the XN only has 1GB. It's also not possible to upgrade the XN to 2GB as it only has a single memory slot - 512MB is attached to the motherboard so the maximum possible memory configuration is 1.5GB. The MN also features 1GB and can only be upgraded to a maximum of 1.5GB.
Sponsored: Minds Mastering Machines - Call for papers now open