Ubiquio 701 ultra-mobile PC
The UMPC finally beats the laptop?
In short, you're paying for portability, and there's no doubt the 701 - like other UMPCs - is very portable. It's screen is good for playing movies, and it'll handle other media with aplomb. But do you need a Windows machine for that? Would you be better off with a true PMP that does all this and offers much better battery life into the bargain? I think so.
Ubiquio 701 key features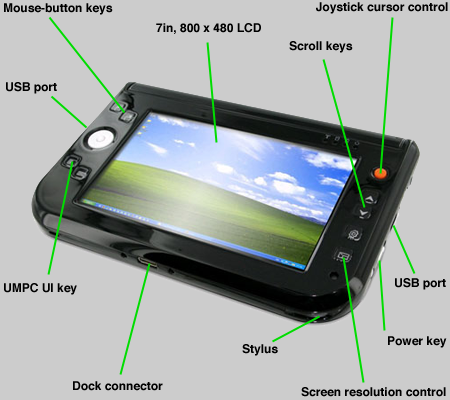 Speaking of battery life, Expansys shipped the 701 to Reg Hardware with a double-size battery, not the usual one that fits flush with the UMPC's casing. This adds considerable bulk to the unit, but you do get more play-time out of it. With the battery fully charged, I set the 701 playing a standard-definition MPEG 2 video. It ran for about 3 hours 40 minutes before dropping the machine into sleep mode. Expect about half that with the smaller, less obtrusive, standard battery.
The 701 is reasonably Vista friendly. It'll run Microsoft's new operating system, but the S3 UniChrome Pro integrated graphics core isn't up to handling the Aero UI, but Vista Upgrade Advisor reckons the 1GHz CPU is fine. The app recommends upgrading to 1GB of memory, but that's mainly for Aero, which the 701 won't do anyway.
For general purpose computing, since you'll need the external keyboard and, ocassionally, a CD/DVD drive, most folk, I suspect, will prefer the bulkier but infinitely more usable laptop. I did enjoy using the 701 to browse websites.
Verdict
The Ubiquio 701 packs a full Windows XP PC into a box the size of a hardback book, and unlike some past UMPC efforts, this one's reasonably reader friendly. It's a smart media playback companion, too, but like all other UMPCs could leave you regretting you didn't buy a machine with a built-in keyboard.
Sponsored: Minds Mastering Machines - Call for papers now open

Ubiquio 701 ultra-mobile PC
The best UMPC we've seen but it still hasn't persuaded us to ditch our laptops
Price:
£560 inc. VAT; £630 inc. VAT with Accessory Pack RRP