In short, you're paying for portability, and there's no doubt the 701 - like other UMPCs - is very portable. It's screen is good for playing movies, and it'll handle other media with aplomb. But do you need a Windows machine for that? Would you be better off with a true PMP that does all this and offers much better battery life into the bargain? I think so.
Ubiquio 701 key features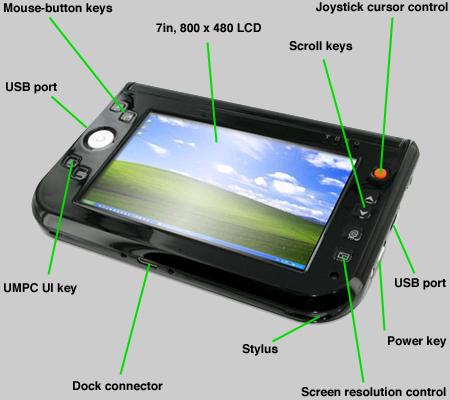 Speaking of battery life, Expansys shipped the 701 to Reg Hardware with a double-size battery, not the usual one that fits flush with the UMPC's casing. This adds considerable bulk to the unit, but you do get more play-time out of it. With the battery fully charged, I set the 701 playing a standard-definition MPEG 2 video. It ran for about 3 hours 40 minutes before dropping the machine into sleep mode. Expect about half that with the smaller, less obtrusive, standard battery.
The 701 is reasonably Vista friendly. It'll run Microsoft's new operating system, but the S3 UniChrome Pro integrated graphics core isn't up to handling the Aero UI, but Vista Upgrade Advisor reckons the 1GHz CPU is fine. The app recommends upgrading to 1GB of memory, but that's mainly for Aero, which the 701 won't do anyway.
For general purpose computing, since you'll need the external keyboard and, ocassionally, a CD/DVD drive, most folk, I suspect, will prefer the bulkier but infinitely more usable laptop. I did enjoy using the 701 to browse websites.
Verdict
The Ubiquio 701 packs a full Windows XP PC into a box the size of a hardback book, and unlike some past UMPC efforts, this one's reasonably reader friendly. It's a smart media playback companion, too, but like all other UMPCs could leave you regretting you didn't buy a machine with a built-in keyboard.

Ubiquio 701 ultra-mobile PC
The best UMPC we've seen but it still hasn't persuaded us to ditch our laptops
COMMENTS
Does no-body sit watching TV while browsing the web?
Got one of the Origami devices specifically for browsing the Internet while watching TV instead of burning a hole in my jeans with a laptop. It's too expensive, currently too heavy and takes too long to boot up, but at least the screen size is right (tried this with PDAs and they are awful), the processing unit is not on my lap but stands up free so I don't bake my nether regions. I don't need a keyboard for browsing and I can Skype while watching Wales trounce England.
It is the minimum space for hand bagage on planes yet still allows me to take powerpoint presentations with me that I can still be editing to the last minute, and I can stream video (and maybe in the long term apps too) at home across the wireless network to it without needing a separate optical drive.
If these things got to a decent price we might get a few for home use, so we can all browse at the same time.
No application?
Like the poster above, there's few applications which someone requires on the move that there isn't already a well optimised device for.
Why play video or mp3s on a UMPC when the battery life would be awful?
For office applications a Windows Mobile device will do.
Nice, but ...
It sounds nice, but, like most UMPCs, seems like a solution looking for a problem. My wife used a tablet PC at her oncologist's office, but that was a specialized application. And $1225 with a keyboard is a little much for a 1GHz, 512 MB, 40 GB machine. And no optical drive. You can get a small laptop with much more horsepower here and still have the money left over for an external keyboard, mouse, monitor and software. Maybe the ubergeek will go for it. Or the business man who thinks he needs the latest in technology to get the edge. (The bizgeek) But I don't see an advantage for me.