Below the cursor control are a pair of keys for up and down scroll actions, followed by a button to pop up the aforementioned control bezel - with brightness, screen size, main display, volume and mute selectors - and, below that, a button that goes straight to the screen-size selection bezel.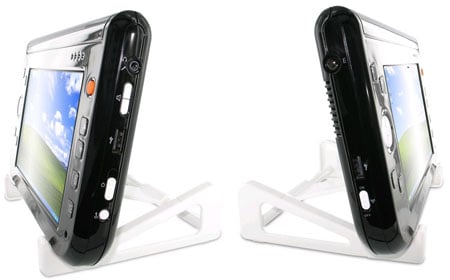 On the other side of the screen are buttons to call up the standard stylus-oriented keyboard, Microsoft's Media Center-like simplified UMPC UI, a five-way navigation key - which, as per the Q1, doesn't control the cursor and is generally little-used - and two buttons clearly marked to show they perform right and left mouse button clicks.
All these controls are well placed for thumb-tapping when you hold the UMPC in both hands. With one thumb pushing the joystick and the other tapping the mouse-button keys, the 701 becomes easy to navigate. The only problem arises when you want to type anything in - a website address, say.
In addition to the stylus-oriented on-screen keyboard, Microsoft provides DialKeys, which arranges the QWERTY layout in two half-semicircles at the bottom left and right of the screen. I like DialKeys, which works fairly well for two-thumb typing. The crucial thing to do is calibrate the screen first - I spent ages complaining to myself about DialKeys' poor responsiveness until I realised where I was tapping wasn't where Windows thought I was tapping. I tried to calibrate the display half a dozen times but never got accurate alignment between pressure point and cursor position, but in the end I got it close enough.
DialKeys didn't feel as responsive on the 701 as I remember it on the Q1. With that device you could tap away and be sure it was reading the key-presses. With the 701, I found entering text more a case of press key, wait to see if it's registered, press key again if not or move on to the next one. This makes text-entry slow on the 701, so if you plan to type on one these things you'll really need an external keyboard.
COMMENTS
Does no-body sit watching TV while browsing the web?
Got one of the Origami devices specifically for browsing the Internet while watching TV instead of burning a hole in my jeans with a laptop. It's too expensive, currently too heavy and takes too long to boot up, but at least the screen size is right (tried this with PDAs and they are awful), the processing unit is not on my lap but stands up free so I don't bake my nether regions. I don't need a keyboard for browsing and I can Skype while watching Wales trounce England.
It is the minimum space for hand bagage on planes yet still allows me to take powerpoint presentations with me that I can still be editing to the last minute, and I can stream video (and maybe in the long term apps too) at home across the wireless network to it without needing a separate optical drive.
If these things got to a decent price we might get a few for home use, so we can all browse at the same time.
No application?
Like the poster above, there's few applications which someone requires on the move that there isn't already a well optimised device for.
Why play video or mp3s on a UMPC when the battery life would be awful?
For office applications a Windows Mobile device will do.
Nice, but ...
It sounds nice, but, like most UMPCs, seems like a solution looking for a problem. My wife used a tablet PC at her oncologist's office, but that was a specialized application. And $1225 with a keyboard is a little much for a 1GHz, 512 MB, 40 GB machine. And no optical drive. You can get a small laptop with much more horsepower here and still have the money left over for an external keyboard, mouse, monitor and software. Maybe the ubergeek will go for it. Or the business man who thinks he needs the latest in technology to get the edge. (The bizgeek) But I don't see an advantage for me.