Ubiquio 701 ultra-mobile PC
The UMPC finally beats the laptop?
Below the cursor control are a pair of keys for up and down scroll actions, followed by a button to pop up the aforementioned control bezel - with brightness, screen size, main display, volume and mute selectors - and, below that, a button that goes straight to the screen-size selection bezel.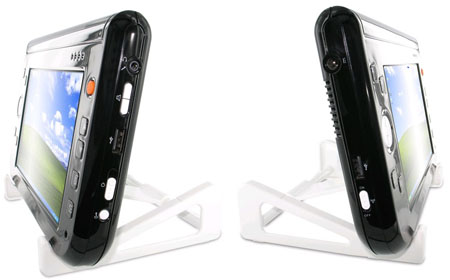 On the other side of the screen are buttons to call up the standard stylus-oriented keyboard, Microsoft's Media Center-like simplified UMPC UI, a five-way navigation key - which, as per the Q1, doesn't control the cursor and is generally little-used - and two buttons clearly marked to show they perform right and left mouse button clicks.
All these controls are well placed for thumb-tapping when you hold the UMPC in both hands. With one thumb pushing the joystick and the other tapping the mouse-button keys, the 701 becomes easy to navigate. The only problem arises when you want to type anything in - a website address, say.
In addition to the stylus-oriented on-screen keyboard, Microsoft provides DialKeys, which arranges the QWERTY layout in two half-semicircles at the bottom left and right of the screen. I like DialKeys, which works fairly well for two-thumb typing. The crucial thing to do is calibrate the screen first - I spent ages complaining to myself about DialKeys' poor responsiveness until I realised where I was tapping wasn't where Windows thought I was tapping. I tried to calibrate the display half a dozen times but never got accurate alignment between pressure point and cursor position, but in the end I got it close enough.
DialKeys didn't feel as responsive on the 701 as I remember it on the Q1. With that device you could tap away and be sure it was reading the key-presses. With the 701, I found entering text more a case of press key, wait to see if it's registered, press key again if not or move on to the next one. This makes text-entry slow on the 701, so if you plan to type on one these things you'll really need an external keyboard.
Sponsored: Minds Mastering Machines - Call for papers now open