Headphone wearing dinobots will raise our children
FSC's research reveals society's ideal digital home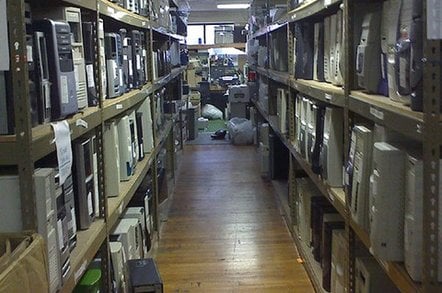 CeBIT The children of the future will be raised by robot dinosaurs, will only communicate with their parents via blogs, and their best friends will be people they've seen on YouTube.
At least that's one way of looking at the technology future sketched out by Fujitsu Siemens after a year's worth of trend tracking by research agency NGGK. The vendor aped the techniques used by fashion houses to snoop on trend leaders – that's young people to the rest of us – in Shanghai, Tokyo, LA, NYC, and London. These are the hot spots where the future is being made, apparently.
The research found five "trend hot spots" that point to where society and technology are going, and show why your grandchildren will have you RFID chipped and looked after by herd of dino-bots.
The first trend is escape, which describes citizen's efforts to separate themselves from today's "frenetic pace" of life. So, you might still have to commute to work on a packed tube train, explained FSC's chief marketing officer, Barbara Schädler, but you'll be wearing an outsized pair of sound cancelling headphones so you're not driven to insanity by the leaky headset of the drone sitting next to you. This also has the added benefit that you're seen to be "escaping" by all the other commuters you're sharing the train with. Once you're at home, you'll be spending hours online, either in role playing games, or engaged with your online community of other big headphone fans.
The second trend is Me, which largely speaks for itself. People want to express their personality, and want their products to reflect them and their lifestyle. Yes, they'll still be buying an iPod, but they're going to have it in pink, goddam you. This too extends onto the net, with Schädler citing the Koreans who use to the Minihomepi online world to construct the sort of homes they'd like, as opposed to the ones they can actually afford.
Third up is departure, which means people want technology to "prepare them physically and psychologically for an eventuality". We think this means stuff needs to be portable, and a bit tougher. Or perhaps it means people will be using their kit in the departure lounge.
Fourth is where it gets really scary. Robots. Yes, Robots. FSC's researchers reckon they're closer to mainstream reality than many realise. It cites the example of a Japanese dinosaur robot with 40 sensors that can "emote" around humans. Such bots have the potential to be the ultimate child's toy, apparently, keeping the little 'uns amused for hours.
The fifth trend, service, just doesn't grab the imagination after that bombshell. All the same, reckons FSC, punters will be much more demanding in the add-on and after sales service they expect with their technology, from backup and data protection services to PC aftercare.
To drive home the point that the home of the future will contain scary amounts of technology, Fujitsu Siemens' PowerPoints featured a couple of imaginary families, where dad can watch the football in any room in the house, while mum buys jewellery online and daughter posts videos of herself doing jazz dance on YouTube.
Schädler was at pains to point out that Fujitsu Siemens was simply relaying what its researchers had found, rather than endorsing the idea of dinobots helping Japanese babies adjust their big headphones while their parents re-tile their virtual bathroom.
Nevertheless, the firm is drawing on the research in its product development. It has an Origami folding notebook on the drawing board, and is working on gamer specific PCs. More immediately, it is pushing the Living Room PC idea hard.
Asked if the firm's research had found any negative attitudes to the encroachment of technology onto family and social life, Schädler said of course there were challenges, but FSC couldn't be expected to take sole responsibility for countering the negative effects of technological change. Education had to start right at kindergarten level she said, with society as a whole shaping how the technology of the future will be used.
We're all for that. But getting the message through the kids is going to be difficult when you can't get close enough to pull off their big headphones cos their robot dinosaur won't let you into the room. ®
Sponsored: Minds Mastering Machines - Call for papers now open