CeBIT 2007: The package
These are a few of my favourite things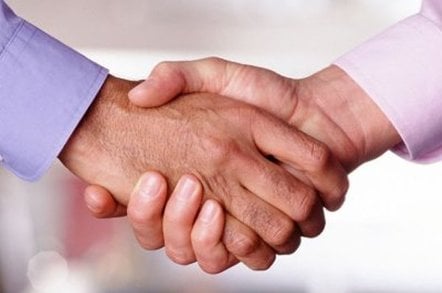 Several vultures descended on Hannover this week to bring you the latest news on all that's new and exciting in digital IT and telecoms.
From mini PCs and new Commodore gaming machines, to dino robots and roaming, it's all right here. Unwrap and enjoy.
CeBIT clips vulture's wing
Things just aren't as big as they used to be at CeBIT. The trade show has slipped down the industry's to-do list almost as quickly as it has vacated the number of the halls it used to pack out.
Headphone wearing dinobots will raise our children
The children of the future will be raised by robot dinosaurs, will only communicate with their parents via blogs, and their best friends will be people they've seen on YouTube.
Acer sends mini PC into the living room
Acer is to offer a living room-friendly version of its business-oriented mini PC, the Veriton 1000, the manufacturer revealed.
Mio marches on with new GPS launches
Three products in the new range - the C320, C520 and C520t - feature a 4.3in widescreen display and split-screen view, while the entry-level C220 retains a standard 3.5in screen. All four products feature the MioMap 3 software, in addition to speed camera alerts and 20 channel SiRFstarIII GPS receiver.
Fujitsu Siemens chief predicts the empty desktop
PC companies need to start planning their escape from the desktop, the CTO of Fujitsu Siemens Computers warned.
Toshiba to bring 'budget' 1080p HD DVD player to Europe
Toshiba will bring its mid-range, 1080p HD DVD player to Europe in May, the consumer electronics giant said. Dubbed the HD-EP10 over here, the box was launched in the US in January as the HD-A20.
Reding puts roaming cuts on ministers' conference table
CebIT is set for an even more chaotic Friday than usual this week as EU telecoms ministers descend on the show to discuss cuts in mobile phone roaming fees.
Commodore specs up Cxx games machine
Commodore's eagerly anticipated Cxx gaming PC will sport an Intel Core 2 Extreme four-core processor, a pair of 768MB Nvidia GeForce 8800 GTX graphics card and a Creative X-Fi soundcard, the company revealed.
EC chucks RFID regs back to industry
The European Commission effectively handed regulation of RFID to the RFID industry today when it announced the results of last year's consultation on the technology.
Samsung tight-lipped about UMPC's 'new' Intel CPU
Does Samsung's Q1 Ultra second-generation UMPC incorporate a new, as-yet-unannounced Intel mobile processor? Certainly, certain Samsung marketing material describes the CPU as a "UMPC Intel New Technology".
Samsung unveils usable UMPC
Samsung has introduced its second-generation ultra-mobile PC - in one go addressing many of the key criticism of its first UMPC, the Q1. Crucially, the new model, the Q1 Ultra, delivers a higher resolution display and incorporates a thumb-operated QWERTY keyboard.
Linksys side-steps Wi-Fi limits with powerline kit
Linksys gave tacit support to the notion that wireless networking has its limits by introducing a mains power networking adaptor based on the HomePlug AV standard.
GigaStor to hunt zero-day breaches
Your intrusion detection system (IDS) may have just downloaded a new security rule, but you have no way of knowing if your network has already been hit by the exploit in a zero-day attack, says Network Instruments.
Adaptec unifies serial RAID
System builders no longer need to choose between Serial ATA and Serial Attached SCSI when it comes to RAID, claimed Adaptec as it announced a family of five unified serial RAID controllers which support both SATA for capacity and SAS for performance.
Red Hat aims higher with RHEL 5
Red Hat today announced version 5 of Red Hat Enterprise Linux (RHEL), its server operating system - but at the European launch in CeBIT the talk was not of all the technology inside, such as Xen virtualisation and JBoss middleware. Instead it was all about partnerships, packaging and support. In particular, Red Hat will now work with application developers, both to offer co-operative support and to recommend other open source software.
EMC and FSC extend their engagement
EMC and Fujitsu Siemens Computers (FSC) have expanded and extended their 10 year old strategic alliance. The two will work together on advanced data centre architectures, while FSC will also provide services for the EMC midrange storage that it sells in Europe. ®
Sponsored: Minds Mastering Machines - Call for papers now open