Computacenter product business stages comeback
Flip-flop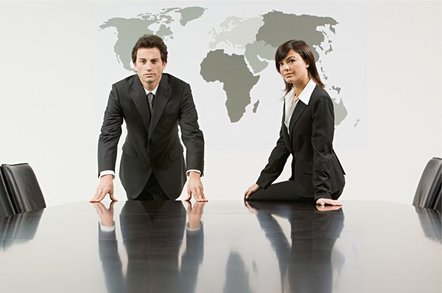 Computacenter has managed to tighten its belt a couple of notches and turn its infrastructure business into its headline feature - for the right reasons.
The firm's preliminary results to the year ended 31 December 2006 boast a "strong performance" for its Technology Solutions division. These "compensated for slower growth" in its managed services business.
Funny how things turn out. Computacenter's infrastructure business was in 2005, the year before the period of these results, undergoing urgent restructuring in the wake of a pinching cut in marketing funds from HP, its lead supplier. At the time, managed services was the darling of CC and practically every other firm trying going after profitable services business in the UK.
The cost saving efforts have paid off for Computacenter's infrastructure business. "The steep fall in revenue in recent years was arrested in 2006," said the Chairman's statement. Group revenues stayed stable at £2.27bn, compared with £2.29bn in 2005 (UK was £1.28bn from £1.35bn).
Managed services, however, gave CC less to celebrate. It was a "disappointing year for contract renewals", said the financial statement, although it neglected to mention which contracts it had lost, like the £15m deal with 02 that went to Computerland, its smaller rival, in the summer of 2006.
It did remember to mention some managed services contracts it had won - including a £28m, five-year outsourcing contract with Eversheds, a £6m, five-year deal with Parity, "and an extension in scope and terms of our contract with the Nuclear Decommissioning Authority.
Managed service revenues had crept up 6.6 per cent, while profit had "improved". But weren't managed services the market everyone was talking about in 2005?
"Managed services is still the fastest growing market," said Alan McNeera, a market analyst at Gartner, "it isn't that the industry was wrong - it's not bad news for Computacenter - it's just indicative of the market."
The problem was that it was so promising at a time when product revenues were in decline that everyone else - including all those offshore outsourcers - piled into the business as well.
Profit before tax for Computacenter Group had dipped a touch from £34m to £33m, though the firm prefers to highlight its pre-exceptional operating profit, which was up a notch from £35.7m to £38m.
More interesting, was Computacenter Direct, its mid-market telesales business - something else it said in 2005 might compensate in future for decline in its IT infrastructure sales to large firms. It still had confidence in the mid-market, it said. It was a "promising" market that was showing "increased interest".
Growth here was 40 per cent growth, though the results fail to remind us what base it had grown from. The Register was told in 2005 that after its first year of growth, from September 2003, it recorded £26m of revenue. In January this year it spent £28m on the acquisition of mid-market rival Digica (the price of which included the settlement of £12m debt). Perhaps it'll say more about its mid-market figures next year.
Elsewhere in CC's 2006 results, support services business was down, its German business showed "underlying improvement" that was subsequently marred by anticipated £6.2m start-up losses on two, "shared datacentre services contracts", and France "remained unsatisfactory". ®
Sponsored: Minds Mastering Machines - Call for papers now open