i-mate SPL Windows mobile phone
It ain't heavy... in fact, it's rather lightweight
While the battery life is enough to keep business travellers happy, it's the missing ingredients that a corporate user might expect these days that stand out. For starters, the phone's connection capabilities are starting to fall behind the times. Naturally, 3G browsing is available, but the only way to share an internet connection on the i-mate is by connecting it to a PC using Bluetooth or physical USB lead. That seems quaint by today's standards, with the current batch of mobiles making use of Wi-Fi connections to cut down on call charges and data-access costs.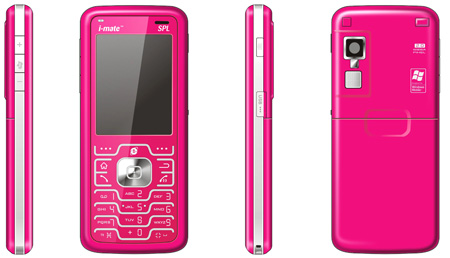 However, the biggest omissions here are the mobile versions of Microsoft Office's component apps, which would need to be added for full out-of-office use.
The two-megapixel camera moves the phone into consumer territory once more. It can capture good-looking UXGA images up 1,600 x 1,200 and the 2.2in screen shows them off well. The video function even picked up sound well at a small concert, even if the images themselves were grainy and just slightly too dark even on the Night setting. However, the delay caused by the operating system stops it being a true snappers delight.
The button on the outside of the i-mate should be a quick way into the camera, with just one more button press needed to take a picture. But the spinning wheel of death that appears in the centre of the screen as the SPL struggles to bring up these functions mean truly spur of the moment images won't make it into your photo album. This is especially apparent on the Burst function, which is supposed to take several quick images but works more like time-lapse photography. Blame has to be laid at the door of the 200MHz processor, backed up by 128MB ROM and 64MB RAM.
Verdict
The problem with the i-mate SPL is that it's not businessy enough to take on something like the Blackberry Pearl and it's not lifestyle enough to compete with the kind of models that come free with today's 12-month contracts. Businesspeople will miss crucial tools such as office software and casual users will miss being able to press the star key and easily lock the handset. Falling between two stools like this means the i-mate is a good choice for those who like a little work with a little play. Sadly, everyone else will find it lacking.
Sponsored: Minds Mastering Machines - Call for papers now open

i-mate SPL Windows mobile phone
Succeeds at most things, but excels at nothing