If you're running Vista, though, you may want to hold off for a little while. A bug in the Vista driver code means that attempting to use the Nova-TD in dual-tuner mode won't work. Hauppauge is aware of this issue and is currently working on a fix.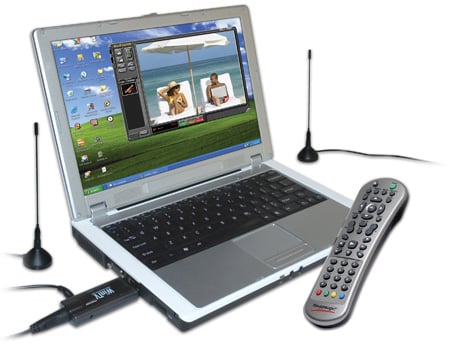 The bundled application for switching between single- and dual-tuner modes, which is currently hidden away on the CD awaiting a manual installation, will also be installed along with the standard applications in the next software release, Hauppauge told me.
Like the EyeTV, the Nova-TD claims to be able to combine both tuners in low signal areas, boosting reception. While it's hard to quantify, using two aerials rather than one did seem to have an effect.
The bundled aerials aren't great for reception, but if you point them in the right direction then you can pick up a reasonable signal for some channels. During testing certain channels were not available whether using one or both aerials, but plugging in the second aerial on a channel with poor reception did result in a more stable image.
For best results, though, you're better off sticking to a roof-mounted aerial or decent indoor antenna. Signal levels in the UK won't be increased significantly until after analogue switch off - currently scheduled for between 2008 and 2012, depending on where you live.
Verdict
The Nova-TD hardware is difficult to fault. It provides two digital tuners in a compact case, making it portable enough to carry around. The ability to combine the two signals could make the difference between a channel being watchable or not, though it doesn't guarantee perfect reception. The asking price of £80 in reasonable, and you might be able to find it for less if you trawl online.
The software, however, is a bit of a let down - it does the job, but it feels basic and a bit clunky. If you've got a copy of Media Center to play with, then you'll find that a much better way to choose your viewing.

Hauppauge WinTV Nova-TD USB TV tuner
A reasonably priced dual-tuner, with a nifty trick to boost reception. Best paired with a copy of Windows XP Media Center Edition.
COMMENTS
Software is shockingly bad
I agree, the software is a joke. The apps look like they are written in VB and are a disaster in usability. It also doesn't work with the remote properly. For example, although you can bring up the channel list, the up, down and enter buttons don't work. So you have to get up, go to the computer and select the channel!! There are other examples of plain daftness as well. You can record programs, but then there is no way of I can find of opening with the Hauppauge software! You have to go to the files on the disk and play them with Windows Media Player or similar. Annoyingly, they are recorded interlaced as well, so in most media players the videos look simply awful with line scan artifacts.
The TV guide is an awful web based app that looks like it was some A level students end of term project. You can't even click on an entry and change to the channel!
To sum up. Great hardware, truly awful software.
Isn't this 2007?
I have a REALLY old BT878 analogue hauppage board, and the only software available for it is WinTV2000 - a big pile of ***** in my opinion, compared to other TV apps.
I find it hard to belive that in 2007 - hauppage are still bundling this pile of **** with their tv cards.
A) no widescreen support - despite the fact that BBC and most other freeview channels are broadcast in a 16:9 aspect, you end up with black bars not only at the sides, but at the top and bottom too - hideous
B) My housemate has a Leadtek DTV dongle, bit cheaper than this, and it works a dream, really nice, 21st century-looking app that handles everything seamlessly with support for using other video decoders (such as Nvidia purevideo and ATi AVIVO) somethign hauppage just dont support.
If you are unfortunate enough to buy or be given one of these, use it with MCE, dont use WinTV2000 - its like using an aold black and white tv compared to what we're used to these days, and widescreen? forget it!!!
Works great on Macs too!
Bought this last week - however I have a Mac and it is not "officially" compatible (at least according to the box). What I can say however is that it works just great, my EyeTV software found it (thinks it's an Elgato Diversity, which of course it is as they are the same hardware....).
Great quality picture, great signal (roof aerial only, the supplied mini aerials are frankly pants.)