Hauppauge WinTV Nova-TD USB TV tuner
Digital telly on the move
Review Digital TV isn't that easy to pick up on the go, but Hauppauge's Nova-TD has a trick up its sleeve to improve reception. It crams two tuners into its USB-connected casing and can draw on the inputs from both to create a better signal.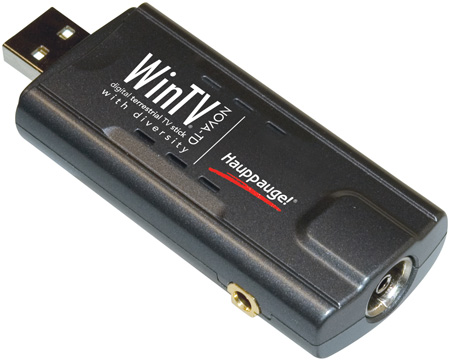 If your coverage is fine, however, you can just use it as a twin-tuner, and as it's compatible with Microsoft's Windows XP Media Center PVR software, you can record two programmes at once or watch live TV while another show is taping. The hardware bears a striking resemblance to the Elgato EyeTV Diversity, which offers near identical functionality for the Mac, reviewed last year.
The Nova-TD is a relatively small USB stick, measuring 8 x 3.1 x 1.5cm - making it look like a slightly oversized memory key. On one end there's a USB connector and on the other a standard aerial socket. The second aerial connector is located on the side and takes a small 4mm plug - an adaptor for connecting a normal aerial to this socket is supplied. Over the other side of the unit is an infrared receiver for the supplied remote control. There are two stick antennas included: one with a standard aerial connector and the other with a smaller plug to match the side socket. Finally, there's a short (approximately 30cm) USB extension cable, allowing you to position the unit in line of sight of the remote control if your USB ports are round the back of your machine.
Support for XP is included in the box, with Vista-compatible software just a download away. The supplied WinTV2000 application provides access to channels, but the Nova-TD is also compatible with Microsoft's Windows Media Center software, available as a separate version of XP and included in both Vista Home Premium and Ultimate.
Sponsored: Minds Mastering Machines - Call for papers now open