MedTab fulfils Xerox predictions
It's not a tablet, OK, it's a pad
Emanotec's newly launched MedTab has at long last realised the predictions of the future of mobile computing made years ago by Xerox Parc.
Tabs, such as a watch or pager; pads, for working heads-down; and screens, for displaying or viewing data, all made up Xerox's vision. And while the screen and the tab have been with us for a while, the pad has proved elusive - until now.
The MedTab is clearly targeted at in-hospital use and is still too small and expensive - $4,995 - to really fulfil the role of the pad, but it's the closest anyone has come to a working model.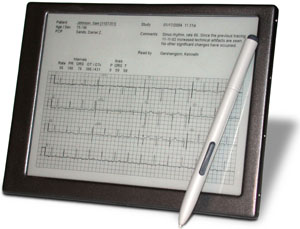 Getting the pad to work has always a challenge. Tablet PCs come close, but are generally used as laptops without keyboards rather than the document-interaction devices predicted by Xerox.
One of the key predictions was that none of the devices would have significant storage - that would reside on the network - but users would be given the impression that files and data were stored locally for ease of use, while ubiquitous networking would make the difference academic.
At the time, the only wireless networking was infrared, which made the prototypes constructed by Xerox cumbersome to say the least. But the MedTab achieves the same thing with 802.11b/g Wi-Fi and Bluetooth, while weighing in at a around 300g.
A proper Xerox Pad (below) would have been A4 in size - rather larger than the 19 x 14 x 1.2cm MedPad. The pad has a decent battery life of six or 12 hours depending on which battery module you add, thanks in part to the e-ink touch-sensitive screen. There's no colour and no video playback, but that's the point. This isn't supposed to be a PC, it's for dealing with documents, not playing Doom.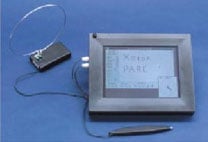 Anyone using a pad would no-doubt have a screen nearby. In fact, Xerox predicted that a user's desk might have a dozen pads on it in addition to a handy screen - they would be piled up in the way papers are piled around the place now.
At almost $5,000 a shot, it's not very likely anyone is going to use the MedTab that way, at least not for a while, but it does demonstrate one of the new ways we'll be accessing computing resources over the next few years, and the precognition of the chaps at Xerox.
Now, if I can only get my jet-pack organised I'll be ready for the future.
Sponsored: Minds Mastering Machines - Call for papers now open