Hit the DECT: cordless phones on test
Ten cordless phones for your consideration
iDect X1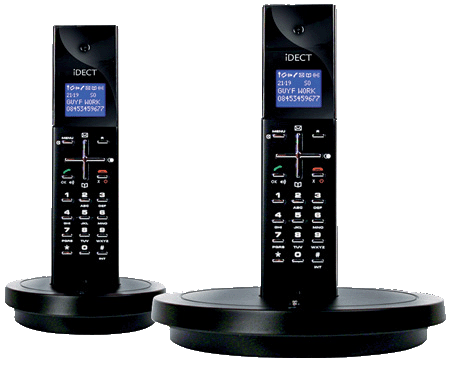 The iDect X1 is one of those very welcome products that completely belies its price with a sleek and sexy design, and enough functionality to make you wonder if the spotty teen who served you in Argos had misread the price when you laid down your £30. But no, it appears that quite simply, the X1 is a bargain.
Black as night and cut using a steel rule, we pulled it from the packaging and were immediately struck by how much smaller it was than we were expecting. Granted, the circular base station is a little too 'dinner plate' for our tastes, but the phone is actually rather lovely. The keypad layout is simple and clean and the big navigational bars are a breeze to use, even for the chunkiest digits.
There's no colour screen, just a two-tone white-on-black display; no polyphonic ringtones but six monophonic alerts; and no text, alarm or fancy Bluetooth apps. But you do get a 50-contact telephone book, 20-call log and 10-number redial, speakerphone, clock, key lock, call transfer, caller ID and iSound – the surprisingly effective technology that makes call quality simply jaw-dropping considering the price.
The X1 lacks many of the features of other DECT phones in this test, but then it comes in at a far more pocket-friendly price. If you're looking for a phone purely and simply to make calls with, in our humble opinion you won't do much better for the price, and likely quite a few pounds more.
iDect X1
---
Best for value
Cheap does not always mean nasty, as the X1 ably demonstrates
Panasonic KX-TCD820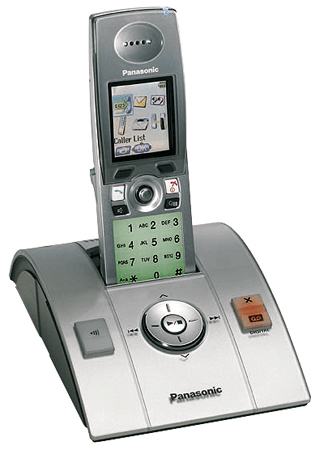 Panasonic's catchily named KX-TCD820 is a quirky looking beast. While Panasonic should be commended for its unique and innovative styling efforts we're not quite sure it's pulled it off here, thanks to a curious mix of angles and curves, metallic silver plastic body, soft backlit green keypad, and a distinctly odd overall design. It may well appeal to the lovers of the modernist movement, but for us trad types it's all a little too severe.
Beyond the funny looks, though, Panasonic has succeeded in crafting an intelligent and simple-to-use DECT phone that echoes well enough the functionality of the common or average mobile. Included in the package we get a decent if not class-leading 15-minute digital answerphone - incorporated into the base unit as per the norm - caller ID, SMS, EMS, 50-number call log, a punchy 1.8in, 65,536-colour screen that was one of the best we tested, intercom functionality, and, handily, an IrDA interface.
The latter enables you to copy data like the phonebook info on your mobile direct to the Panny using infrared – no need for individual inputting of numbers, which is always a pain. And with three 200-name and number phonebooks built in, the TCD820 should be able to handle all your personal and business contacts with room to spare.
The included USB port offers up even more room for updating and customising. Hook it up to a PC and you can download ringtones and images as screensavers or attach them to caller IDs for some serious mobile-style personalisation, plus you can update your contacts direct from Outlook. Call quality is faultless and with five additional handsets able to run from the base-station, versatility is the key word for the very capable KX-TCD820.
Best for home and business
Panasonic KX-TCD820
---
Best for home and work
Versatile if ugly, with a booming voice - the Chris Moyles of the DECT world