Hit the DECT: cordless phones on test
Ten cordless phones for your consideration
MagicBox Touch 100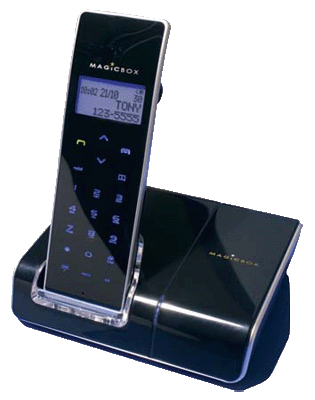 The MagicBox Touch is one of a new wave of DECT phones looking to set itself apart from the pack by offering up a unique design feature. As you can likely guess from the name, this phone features an entirely touch-sensitive fascia in place of the traditional - and, it has to be said, entirely functional - keypad.
MagicBox's biggest success with the Touch is its styling – it's a beautiful bit of kit that's following the en vogue trend of piano-black finish and smooth, curved corners with a nice metallic detail. When inactive, the Touch's keypad is completely invisible, rendering it monolith-esque in looks with nothing but the diminutive two-tone screen and MagicBox logos visible on both the phone and its dock. Though there is an unnervingly bright blue standby light, which may be a little annoying on, say, your bedside table.
Receive a call though, and it's all change as the whole things lights up in a ridiculously pleasing icy blue glow revealing a standard number layout, navigational directions and that slightly underwhelming display. Features include a 60-contact phonebook, 20-number call log, ten polyphonic ringtones and caller ID. There's also intercom and speakerphone functionality.
In use the MagicBox is great to look at and call quality is perfectly decent if a little muffled in comparison to some of the phones on test. But the real issue unfortunately came with the touchscreen. Like most mobiles before it that have opted this route from a purely aesthetic point of view, the simple truth is that a touchscreen is rubbish in comparison to the trad keypad. We found ourselves accidentally cutting people off, upping the speaker volume or pressing random keys with our (admittedly large) ears during calls, or else struggled to hit the right keys in order when dialling numbers, which made using the MagicBox more of a chore than a pleasure.
MagicBox Touch 100
---
Best for novelty
MagicBox gets touchy with its latest DECT phone
Siemens Gigaset SL565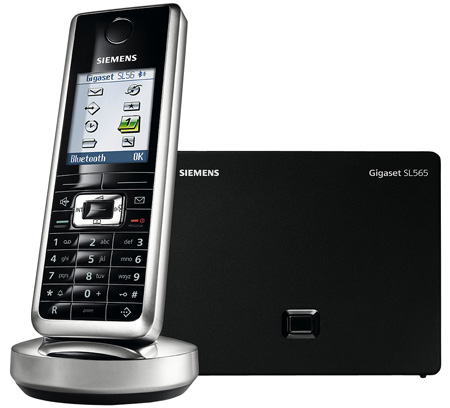 Yet another phone jumping on the 1980s-inspired black and silver style wagon, the SL565 comes complete with organic curves, clean styling and the most mobile-phone esque appearance we've yet encountered. Alongside it sits a secondary all-black unit that houses a digital answer machine with the capacity for 35 minutes of messages – more than adequate for the home.
Although a style statement, we reckon the SL565 is more suited to an office environment thanks to its smorgasbord of features and expandability, with up to six handset able to operate from the one base-station. Of its myriad features, the most prominent is the inclusion of Bluetooth so you can use it with a remote Bluetooth headset leaving your hands free to do whatever they need to, be it washing up or writing reports.
Then there's the SMS texting function, good sized 65,536-colour screen, vibrating alarm, polyphonic ringtones and an expansive 250-entry telephone book holding home, work and mobile number for each contact alongside email address and other info. Heck, you can even pick and choose the language.
It's an awful lot of functionality packed into a DECT phone, but Siemens has wisely opted for a mobile-esque and very user-friendly layout and interface, replete with quick access keys to text, phone book etc. Matched in features by call and build quality, you are paying for the numerous extras, but if you'll use them it's a great phone at a decent price.
Siemens Gigaset SL565
---
Best for home offices
A Gigaset SL455 a day lets you work, rest and play