Hit the DECT: cordless phones on test
Ten cordless phones for your consideration
Bang & Olufsen BeoCom 2

Once you've recovered your senses from the fact that you've just shelled out half a grand for a DECT phone, you'll begin to appreciate the finer points of high-end manufacturer Bang & Olufsen's BeoCom 2.
Crafted from a single slither of brushed aluminium and offered in a range of six colour schemes, the unique and accentuated curve design stands it alone in the DECT phone world as a style statement and piece of modern art first and a communications device second. Because, considering the cost, it isn't exactly packed with bells and whistles.
But what it does it does well. Call quality is stunning – completely crystal clear – and thanks to that ergonomic head-shaped design, you'll find yourself ramping up the phone bill fast because this handset's such a pleasure to use. The more you use it the more likely your chums are to see it, which is clearly the main reason for owning such a gadget.
It comes with a 200-entry phonebook that is created as you make and receive calls, and a 24-strong received and made call log, alongside caller ID and other basic functions. You can also operate six BeoComs from one unit if you so desire - though you may have to remortgage for the privilege at a cost of £3,000! - and then use them as an intercom system around the home. The feature Bang & Olufsen seem most excited about though is the BeoCom's unique ringtone, a 'natural and tranquil' sound designed to remove the urgency to answer any time soon. A nice feature – unless you're the one calling. And waiting. And waiting. And waiting.
Bang & Olufsen BeoCom 2
---
Best for indulgence
Is it a banana? Is it a phone? Is it way too expensive? Two out of three's not bad...
BT Calypso 225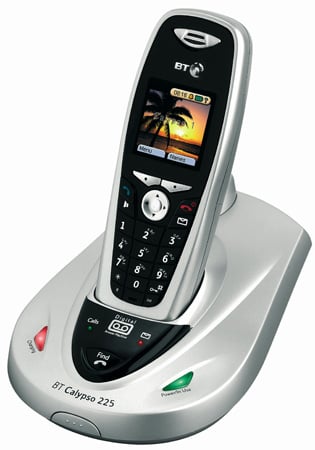 The domination of the mobile phone has taken its toll on DECT's popularity, but companies like BT are responding by transforming the cordless into something not so far removed from its more versatile cousin. The Calypso 225 is the next step in this evolution, featuring the likes of a colour screen, SMS capability and a built-in SIM card reader.
The sunny sounding Calypso is a curious-looking beast that's left the fashion gurus here at Register Hardware in a state of mild confusion, because we just can't decide whether it's a bold style statement in the vein of a 1980s Casio calculator, or a hideous melding of tacky black and silver to be hidden in the under-stairs cupboard.
In use the 225 is adequate if not spectacular thanks to a low hum invading some conversations and a not-quite-crystal call quality. One thing we are in no doubt about, however, is its functionality. Available with up to three extra handsets - marketed as the Quad - it features a plethora of useful add-ons alongside basic functionality like 20 dialled and 50 call log capacity, massive 200-contact memory, eight ringtones and the ubiquitous polyphonic ringer. BT has usefully also thrown conference call facility and answering phone into the mix, which is discreet enough to have little impact on the size and style of the base-station and offers an adequate 20-minute digital recording capacity.
Functionality has also been derived from the mobile world, with the Calypso's distinctly Nokia-esque menu system a cinch to navigate and familiarise yourself with. Just plug it in, slip you mobile's SIM in the dock and you'll be up and running in no time with a full contact list, the ability to send and receive texts, full colour screen with caller ID, wallpapers, clock, alarm and everything else you'd expect from a mobile, sorry DECT phone.
BT Calypso 225
---
Best for mobile-phone lovers
Don't get your hopes up, it's not a revival of the fizzy drinks firm but BT's mobile-style home phone