Hit the DECT: cordless phones on test
Ten cordless phones for your consideration
Group Test The mobile phone may well be enjoying its time in the limelight, but like reality TV stars and the England cricket team, it probably won't last forever. Especially not when you cast your eye over this little lot, the cream of the DECT cordless-phone crop. Where these handsets are concerned, it is indeed good to talk.
BT Home Hub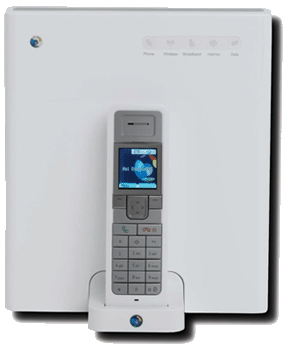 The first thing that strikes you about BT's latest addition to its portfolio is the styling. Separated into two components, the wireless router and the phone, the Hub is encased in a distinctly iPod-esque glossy, plastic and white livery. It's an obvious nod to the style icon, but it does look slick and will sit well in any modern home.
The phone is a good-looking device too, if a little flimsy feeling to the touch, and wears a small 65,536-colour screen and clean layout of silver/grey keys. Features it offers a 50-number call list, 150-entry phonebook (holding home, work and mobile number for each contact) and a 20-number redial list. Mobile phone styled add-ons like polyphonic ringtones, wallpapers, and time and date display are surplus to requirements, but certainly don't detract from the package. The Hub on the other hand is a statement of minimalism. A wireless ADSL 802.11g router with VoIP capability and built-in firewall, its only sign of life are five green lights that flash to show the status of your Wi-Fi connection, calls and the like.
Ease of use is clearly BT's mantra here. Setup is quick and easy: just pair the phone to the router and you're ready to make calls. Sound quality is punchy and clear, and we experienced no distortion at all. Talk to someone else using the Hub and you benefit from BT's touted Hi-Definition sound quality, though we didn't experience that pleasure.
The Hub is designed as much more than a DECT phone, though – BT wants it to be the beating heart of your digital home. It can connect to up to 15 devices wirelessly, and thanks to the pre-configured wireless security you can get up and running on the net via your laptop, for example, immediately and without concern of getting jacked. It's also future proofed to team up with BT's new digital range, BT Fusion and BT Vision.
BT Home Hub
---
| | |
| --- | --- |
| BT brings it all together in one slick package. Fingers crossed it keeps its service up to scratch... | |
Philips VoIP321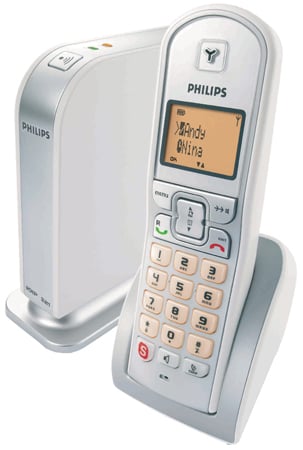 Philips has jumped on the Skype supernova with the VoIP321, a DECT phone that doubles up as VoIP phone too. In a similar move to BT's Hub, the 321 ships as two separate components, the phone/charge dock and the base station. The thinking behind this is that although Skype is a great way to save money on calls, it's not exactly ideal to have to sit in front of your PC to make them.
Philips has made a concerted effort to keep things stylish, and the base station is an unassuming bit of kit that should slip in next to your computer without drawing too much attention. Looks-wise, the phone is typical of Philips' regular DECT handsets barring the inclusion of a big red 'S' for accessing your contacts list and making Skype calls. It's an ergonomic design that fits into your hand and against your face comfortably and offers hands-free facility alongside caller ID, call waiting, message waiting and call transfer. There's a 20-missed and 10-received call log, 50-entry phonebook and a range of polyphonic ringtones and ring profiles to help distinguish between landline and Skype calls. Nice touch.
Call quality is excellent, as you'd expect from a company with Philips' heritage, and ease of use is a boon too. Plug the base into your phone socket and the 321 functions as a normal wireless DECT phone, but connect it to your PC via USB and the world of Skype opens up with free calls to your contacts and access to SkypeOut for cheap landline calls via broadband.
There are a couple of niggles though. Namely, your PC has to be on and connected to Skype in order to use the service, and Philips has opted to only support Windows, which will limit some users. But if you can overlook these issues, it's a stylish and solid introduction to Skype.
Philips VoIP321
---
Best for VoIP
Reach for the Skype with this philips DECT/VoIP hybrid
Sponsored: Minds Mastering Machines - Call for papers now open