Man prangs £830k Bugatti Veyron
'World's costliest road crash'
An unknown driver trashed an £830,000 Bugatti Veyron on Sunday in what UK tabloid The Sun is calling "the world's costliest road crash".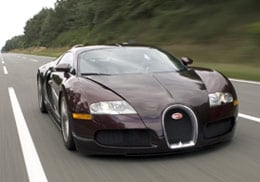 The 253mph beast crashed in pouring rain on a 40mph stretch of the B375 near Chertsey, Surrey, while allegedly doing 100mph. The driver apparently lost control and the hand-built French motor hit a Vauxhall Astra before "smashing into trees up a 3ft bank".
An eyewitness told The Sun: "It was clearly an almighty bang. Bits of Bugatti were strewn all over the road. The front had been virtually ripped off, every panel was damaged and the front wheels were pointing in opposite directions."
The Veyron is owned by a businessman "who runs a car hire and management company with his brothers", The Sun notes. He claimed he'd rented it to the driver for a cool £20,000 a day having coughed up an over-the-odds £925,000 for the car, which was delivered just a week earlier.
Regarding a possible salvage operation, Nick Lancaster of car dealers HR Owen said: "It is the first Veyron I have heard of being damaged. We cannot say yet whether it is written off or not."
In case you're wondering just what the world's most expensive prang looks like, The Sun has pics here. ®