Nokia E65 mobile phone
Looks good. Feels good. But how does it actually perform, hmm..?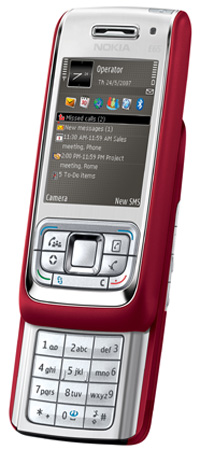 While IM is a useful feature that helps to enhance the E65's "always connected" design, the lack of a QWERTY keyboard means sending messages is slow and cumbersome, prompting us to think "sod it, I'll just ring them". However, we must admit that if stuck in a boring meeting or in one of those quiet carriages on trains (any young professionals still interested?), then the E65 will push your buttons on this feature alone.
Next, we spent a few minutes taking snaps of each other around the office and quickly noticed that, despite the camera's capable 2 mega pixel lens, its photo quality is decidedly poor. The E65's ample screen size seemed fine for taking photos on the face of it, but once in camera mode a mysterious grey banner appears to take up much of the visible area – reducing the available snapping size for those all important pictures - work Christmas parties, the boss falling over after too many Pernods, and your partner in front of a romantic backdrop.
However, we put our picture-based grievances aside and began snapping, but soon found that despite a 16 million colour display all pictures have a grainy grey quality to them – even in what's supposedly high-resolution mode (so we didn't even bother with the lower resolution modes).
Coupled with the E65's lack of any photo editing applications, such as those common to the N70, our opinion was later confirmed that Nokia is not targeting this model at the happy-snapper user because it lacks any clip-art capabilities. It does feature video capture and playback facilities though, which is a slight upside.
In all, we found the E65 to be a little like a tasty three course meal, but one followed by a defrosted chocolate pudding or instant coffee. If you are looking for a stylish phone that has all the basic applications required to keep you connected to the office, your work documents and not much more, the E65 is a solid choice.
However, if you also need your phone to entertain you on journeys and for multimedia over the weekend, it sadly lacks any capable features in this area.
Sponsored: Minds Mastering Machines - Call for papers now open

Nokia E65 mobile phone
The E65 is a little like an off-the-rack suit trying to masquerade itself as a Savile Row made-to-measure
Price:
Around £500 depending on contract RRP