Nokia E65 mobile phone
Looks good. Feels good. But how does it actually perform, hmm..?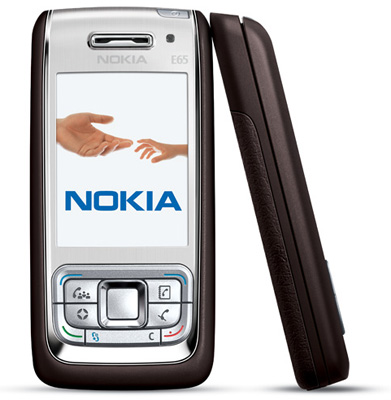 A Push To Talk (PTT) function allowed us to develop a "channel" and make group conversations about our news items for the following day. Most journalists have strong opinions and so constantly talk over each other in conversations, but thanks to a handy PTT function, only one participant can talk at a time. Presumably, Nokia would argue this results in quicker telephone meetings, improved productivity, and faster decisions, etc.
Other useful connectivity features included in the E65 are mobile VPN and a WLAN wizard, which helped us effortlessly scan for and connect to wireless LAN access points around the office. An EDGE data tool also ensures connectivity if you are out of coverage for high-speed data networks.
We were also pleased to see that the E65 came equipped with a clean web browser that, once it had connected itself, proved to be relatively fast at downloading pages and jumping from site to site.
The browser also offered us subscriptions to news feeds or weblogs, for which we opted to use the scroll key to navigate through Vulcan 22's 99 reasons about why Captain Picard is better than Captain Kirk.
We also accessed Google's Gmail service and had no serious problems, aside from slow connectivity. However, we put this down to geographic location and suspect that anyone seriously considering buying the E65 would also be equipped with a wireless-capable laptop or PDA, making surfing on the E65 only a backup option.
A slight indication that Nokia is hoping to lure customers outside the E65's primary target is the addition of a media player and instant messaging, which certainly caught the interest of our work experience dogsbody throughout testing.
Sponsored: Minds Mastering Machines - Call for papers now open