Nokia E65 mobile phone
Looks good. Feels good. But how does it actually perform, hmm..?
Review As part of an expansion to its business-orientated E Series, the Nokia E65 has been styled to give off the persona that it's designed specifically to attract a higher class of user – the modern and remotely connected business executive.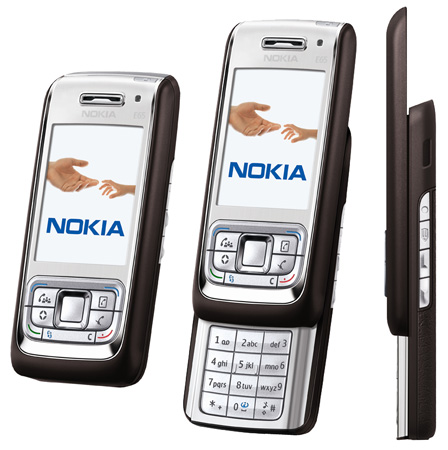 The E65 has a sliding front fascia and the soft leather backing is reminiscent of a premium economy airline seat. This outer styling is combined with a mere 115g weight, 105x49x15.5mm dimensions and a QVGA resolution display. All these combined meant it slipped easily and unobtrusively inside a jacket pocket.

Nokia has loaded the E65 with version 9.1 of the now commonplace Symbian operating system, as already featured on existing models including the N70. Symbian, though both dull to view and navigate around, is a logical OS that places all its applications just where you expect. So text messages are in a text message folder and Bluetooth, infrared and all of the E65's other connectivity applications are found (cunningly) within the connectivity folder. This helps to make phone navigation easier than a trip around Central London with a clued-up cabbie in your pocket (now commonly referred to as the TomTom).
In an attempt to make the working life of a busy executive slightly easier, the E65 features shortcut keys on its front fascia, such as for conference calls, and includes a "My Own" key designed to give the user immediate access to their favourite application – in our case the web. It also features a healthy six hours of talk time and an incredible 11 days of standby time – making it the perfect companion for the business traveller who's forgotten his charger.
Complimenting its stylish Italian suit look and feel, the useful OS, shortcut keys, and document transfer capabilities show that Nokia has clearly considered the requirements of the E65's primary market.
Most of the connectivity tools are nothing new, such as infrared and Bluetooth, and can be found on a host of existing Nokia models, but we were pleased to see a number of others that help to give the E65 a slightly more executive feel.
COMMENTS
QWERT Keyboard
You imply that QWERTY keyboards on small devices are somehow a superior feature. What a load of baloney. Dealing with more than 26 buttons on a device that small is what is cumbersome. Infact I would go so far as to say that most qwerty keyboards on small devices are nothing less then gimmicky.
I think the phone is great as it is.
Dreaming of this phone!!!
Great Phone! Nice Design! Great First Review! This phone is a "full house" of things you need every day!!! I LOVE IT!!!