BBC promos go GooTube
Trailer park
The BBC played down a new agreement to license content to Google's YouTube website today. Corporation executives admitted that the initial scope of the deal doesn't expand on what the Beeb already offers through its website.
Three branded YouTube "channels" will show promotional clips and news clips from the BBC, the BBC's commercial division Worldwide, and its news service World. Thirty news clips a day will be available on the latter. Two of the three "channels" will show advertisements alongside the clips.
Original programming is scant: video diaries from Dr Who and Life On Mars have been promised, for example.
"This deal is absolutely no different to what BBC World has offered for years, we have deals to offer clips on websites such as Yahoo!," BBC Worldwide's David Moody.
Ashley Highfield, the BBC's new media chief, agreed, explaining the deal "not about distributing content like full-length programmes; YouTube is a promotional vehicle for us".
Executives also said the deal was a testing ground for the BBC's own iPlayer. YouTube surfers have more chance of stumbling across BBC content, while the corporation also gets Google to shoulder the burden of hosting the material. A win-win for the BBC, then?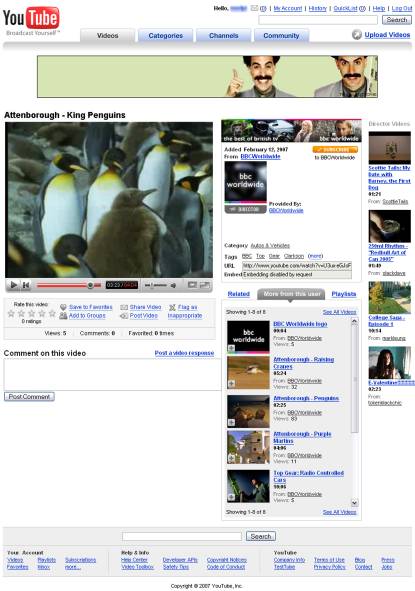 There's no need for bad language: King Penguins on YouTube
The problem is, the complexities of adhering to the corporation's charter using a global medium are already making a monkey out of director general Mark Thompson's goal to have BBC content available "anytime, anywhere".
Two thirds of the promo content won't be available to UK users - because the BBC isn't permitted to show advertisements in the UK. Meanwhile, much of the BBC's digital content can't be viewed outside the UK.
So what you can see and where is all a bit of a crapshoot. Despite its multi-million pound investment in digital services, the BBC now trails latecomers like Channel 4, which now offers UK citizens a broadband VoD service for Windows PCs. ®
Sponsored: Minds Mastering Machines - Call for papers now open