RIM BlackBerry 8800
A little tweak here and there makes a world of difference
RIM claims the battery lasts for 22 days standby and five hours talktime. With moderate use you should be able to get a week out of it between charges. The 8800 supports the standard BlackBerry email services so once you've tapped in your details then new mail will be pushed to the device. There's no need to manually refresh your inbox, new messages will appear soon after they've left the sender's outbox.
It will work with both the consumer/small business oriented BlackBerry Internet Service, which integrates with an existing email account, or the corporate focused BlackBerry Enterprise Server, which is likely to require the help (and approval) of an IT support department to install.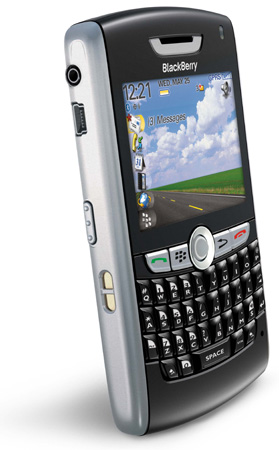 RIM has also included a GPS receiver in the unit, which when combined with the included BlackBerry Maps application allows you to find out where you are. Rather than store map information on the device, the application downloads the data as and when it needs it, which will increase your data use if you use it a lot.
While the free application does allow you to quickly find your location, its route planning abilities are basic to say the least and it's no replacement for a dedicated Satnav unit. However, if you just want a helping hand when you're lost, then it's more than adequate.
Verdict
The 8800 is aimed more at the BlackBerry converts and those that value a better keyboard over size. It's a stylish device too - taking a number of cues from the Pearl to create a handset that most people wouldn't be ashamed to have on show. Add in a decent-sized screen, QWERTY keyboard, media playback facilities, reliable BlackBerry email and built-in GPS and it's a well thought out and competent device. While its size may put some people off, if you value text over talk then it's an obvious choice.
Sponsored: Minds Mastering Machines - Call for papers now open

RIM BlackBerry 8800
A more text-friendly BlackBerry that takes design cues from the Pearl, but also adds original features like integrated GPS...
Price:
Depends on contract RRP