Asus W5Fe Windows Vista laptop
Asus has produced the first laptop with a Windows Vista SideShow screen
Windows Vista includes the Windows Experience Index, which rates the components of the computer on their ability to run Vista. The graphics are only rated at 2.3 on the Aero scale and the gaming graphics at 3.0, while the memory, hard drive and CPU are all rated above 4.5, so this laptop is very marginal in terms of its ability to run the Aero interface. We installed the latest Intel driver to see what difference it made and the WEI score creaked up slightly to 2.5, which wouldn't make a lot of difference.
Specification
Processor: Intel Core 2 T7400 2.16GHz
Memory: 1GB 667MHz DDR2
Hard disk" 160GB Hitachi HTS541616J9SA00
Optical drive: Matshita DVD-Ram UJ-842S
Chipset: Intel 945GM and ICH7-M
Graphics chip: Intel 945GM
Screen: 12.1in, 1,280 x 800
SideShow screen 2.8 inches 320 x 240
Weight: 1.8kg with three-cell battery
Dimensions: 30.5 x 22 x 3.1cm
When it comes to battery life we fully expect to see a real world life of three hours or more with the regular six-cell battery, however our sample had a three-cell unit that only lasted for 27 minutes. Clearly that's disastrously bad but we can't believe that this figure bears any relation to the production unit, however we feel it would be dishonest if we didn't report the figures that we saw.
Benchmark results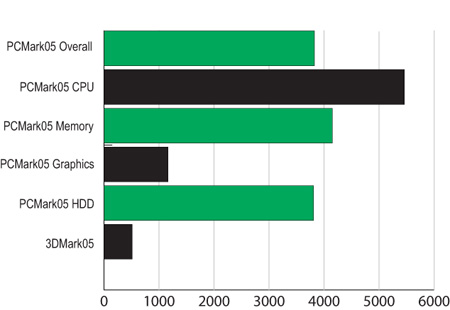 Verdict
[Dreamy M&S-style voice over] This isn't just a laptop; it's a Windows Vista laptop. The SideShow screen will boost your staying power and make you more appealing to women, while the Core2 processor and 1GB of RAM provide the power that will impress your boss.

Asus W5Fe Windows Vista laptop
This isn't just a laptop; it's an expensive laptop. But it does look tasty...
Price:
£1,399 inc. VAT RRP