Asus W5Fe Windows Vista laptop
Asus has produced the first laptop with a Windows Vista SideShow screen
The styling of the W5Fe is slightly unusual as the lid has a pronounced bulge to contain the SideShow hardware. While the compact chassis looks very smart in its graphite grey finish we have a few concerns about the integrity of the chassis. For one thing there's no catch to secure the lid and we have a personal preference for a positive lock that protects the screen. The keyboard feels solid enough even when you type hard but the mouse touchpad uses a strange textured material with a small surface area and we often found our finger sliding straight off the side and onto the mouse buttons.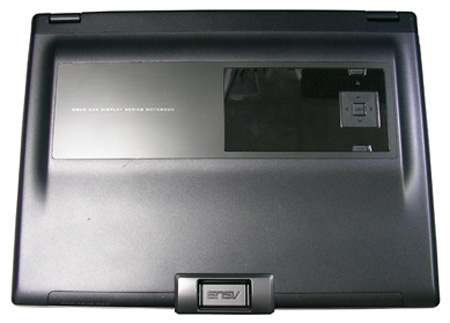 In the top edge of the bezel there's a swivelling 1.3Megapixel webcam that is a useful feature but it takes up a certain amount of space in the lid. Asus has chosen to install a 12.1in screen which has a resolution of 1,280 x 800, but this widescreen resolution is relatively small and if you make the most of the Vista Sidebar you'll find that there isn't much space on your desktop. Working your way round the chassis there's a reasonable selection of ports and connectors. Above the dual layer DVD writer there's a single slot xD/MMC/MS Card reader, with a mini Firewire, modem and 10/100 LAN on the left side, TV-Out on the back and on the right side there's VGA and an Express Card slot. There are three USB 2.0 ports arranged with one on the left, one on the back and one on the right so you should have no trouble plugging in a mouse and other peripherals.
Under the bonnet there's a 2.16GHz Intel Core 2 T7400 processor with 1GB of DDR2-667MHz running on an Intel 945GM/ICH7-M chipset and the usual Intel 802.11ABG wireless. That's a respectable Centrino platform however we were surprised to see that this Vista Premium laptop uses Intel 945GM graphics.