Asus W5Fe Windows Vista laptop
Asus has produced the first laptop with a Windows Vista SideShow screen
Review We already teased you not too long ago about the Asus W5Fe and now we've got our hands on an engineering sample of this innovative, compact Windows Vista laptop and an opportunity to put it through its paces.
Asus has produced the first laptop in the world that makes use of Windows Vista SideShow to support a secondary screen in the lid. This is a 2.8in screen with a QVGA resolution of 320x240, just like any number of mobile phones that are on the market. The lid of the Asus also holds 1GB of flash memory which stores a cut-down Operating System that powers SideShow and which also links to the main Vista Operating System.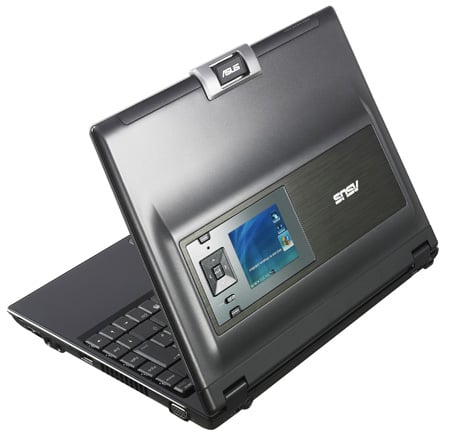 You can use SideShow to play music or games such as Solitaire (remember, you're limited by a tiny screen) but more usefully you can also check email and your calendar. There's an On/Off switch next to the screen along with navigation controls so you have no need to open the lid of the laptop to use SideShow. If you choose to open the lid the image on the SideShow screen flips over in order to remain the right way up.
SideShow operates when Vista is shut down to save battery life, but it will wake Vista every so often to synchronise data and to keep the music flowing. Asus pointed out to us that on this engineering sample the headphone socket is only turned on when the main notebook itself is powered up. It's a safe bet that this will be fixed in production units.
The software behind SideShow uses the Gadgets that appear in the Vista Sidebar so you can pick and choose which content uses SideShow. You can also opt to allow parts of Office 2007 to use the screen and no doubt software developers will shower us with SideShow plug-ins and apps over the coming months and years.
Sponsored: Minds Mastering Machines - Call for papers now open