Lexar launches 45Mbps UDMA cards
Promise of less transfer time
Lexar has launched a range of Ultra Direct Memory Access (UDMA) cards that write data at 45MB per second potentially reducing download time for digital photos considerably.
If paired with a UDMA-enabled device, the card can reduce the time needed to download captured images to a computer.
The cards, speed-rated at 300x, are available in capacities of 2GB, 4GB, and 8GB, are designed to be faster than the previous model – the 133x CompactFlash product line – providing they are used with a UDMA-enabled device.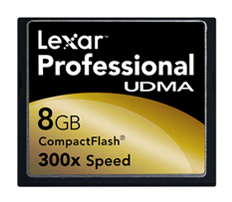 The cards come with a limited warranty, technical support, and software that includes Corel Paint Shop Pro X, Lexar Image Rescue 3 and Lexar Backup n Sync. They will be available in April although no price has been set yet.
Conveniently, the company has also launched two high-spec flash memory card readers for this; Lexar's Professional Dual-Slot Reader is USB 2.0-enabled and compatible with SD, SDHC, CompactFlash and UDMA-enabled CompactFlash memory cards. And the second, the Professional UDMA FireWire 800 Reader, is compatible with all CompactFlash (Type I and Type II), MicroDrives, and UDMA-enabled CompactFlash cards, including Lexar's recently introduced 300x speed-rated family.
Both work Windows XP or later, or Mac OS 10.2.8. The Professional UDMA FireWire 800 Reader will be available in April for $79.99 (£41), while the Professional Dual-Slot USB Reader will be available in June for $49.99 (£25).
Sponsored: Application managers: What's keeping you up at night?