Samsung YP-K3 digital audio player
Nice curves, but does it have anything worthwhile inside the casing?
Samsung has added a 'text' function to the K3, in order to now see the music files name as they're being played. This wasn't available on the K5 and a rather fundamental requirement. As we're on the subject of additions, they've taken away the alarm functionality that appeared on the K5 OS and not included it as a menu task on the K3, not a major loss, but worth noting. An attractive extra would be the ability to show album art as this feature appears on most of its contemporaries, such as the iPod Nano and SanDisk Sansa e200 series.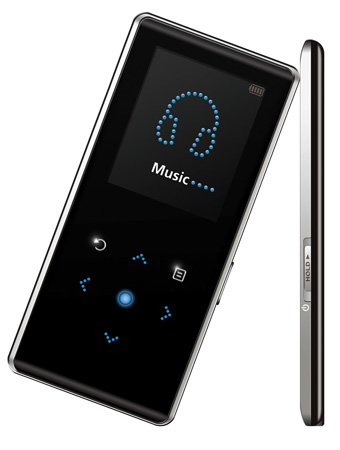 The FM radio is easy to setup and use. We tried the player out in a large open space and in a rather built up area where interference would be rife, the sound came through clearly. Sadly taking the EQ sound effects from the DAP through to the radio isn't a feature – a shame really, as this would add to the listening pleasure. Also lacking is displaying of the station names, not an overall detract in the abilities of the K3, but still somewhat a miss.
Viewing images on the K3 shows how sharp the OLED screen really is, as the quality is very clear and extremely well-defined; JPEG's though are the only format shown as nothing else is supported. There is software accompanying the unit, namely The Samsung Media Studio that can convert other image formats to JPEG for viewing on the K3. This software can be used for music file transfer to and creating their playlist's. Files can also be dragged and dropped from Windows Explorer as the Media Transfer Protocol is used. Presently the K3 is solely Microsoft Windows compatible, leaving Apple and Linux users out in the cold. A lack of support for iTunes could be a that Samsung don't want to play nicely with the other children, although most other music services, such as Rhapsody are supported.
Verdict
Many other DAP devices with FM ability within the same price range feature video playback, take the SanDisk Sansa e200 range for example, and now with some jiggery-pokery even the latest iPod nano can too. To compete in pound-to-pound verses function-to-function, it looks like this is a must in today's MP3 player. However, it does have very good sound quality, good looksk and a 25-hour battery life all in its favour. Perhaps the lack of video can be over looked in this instance.

Samsung YP-K3 digital audio player
Samsung's bite out of the Apple is more like a nibble with the K3, but a worthy nibble at that.
Price:
2GB...£89 (inc VAT)
4GB...£119 (inc VAT)
8GB...TBC RRP