Cowon D2 premium digital media player
Pretty, practical and pricey
Turning the D2 on reveals not just how beautiful the screen but also a user interface that doesn't dimish it. The UI's all done up in light blue, with other colours used to indicate highlighted icons and active on screen elements, such as the track play-progress bar. From the initial menu of icons you can double-tap to select music, videos, pictures, text, the built-in FM radio, recordings you've made using the aforemention microphone, and player settings.
Selecting the Music icon starts playing all the songs in sequence, showing the current track's album, artist and title, album art if it's available, and all the track playback status information you could possibly want, including all of the D2's numerous audio enhancement options. All the data's laid out cleanly and clearly.
Tapping the screen quickly fades in on-screen track skip and play/pause buttons, along with four buttons along the bottom: Browser, Settings, Menu and Close. The latter gets rid of the overlaid buttons, while Menu takes you straight to the initial icon layout. Browser and Settings both pop up vertical stacks of options - tap on any one of them to access it. Browser, as its name suggests, can take you to a file browser, but its pop up also includes on-the-go playlist manipulation options.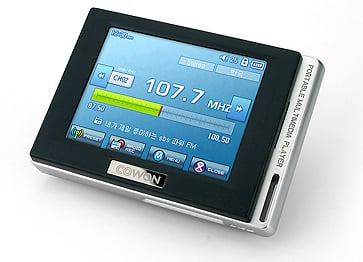 If there's a flaw, it's the speed at which these items disappear, leaving you back in the play screen. I'd have liked them to remain active for longer, but then I was just browsing the controls and options - if you're using them in earnest, you won't be dithering like I was. The UI's intuitive and the resolution of the screen means even small buttons' functions are clear. The text is small enough not to be blocky, but not so tiny it's unreadable. Buttons change to reflect the action initiated when they're pressed.
Settings are generally presented as list of options you scroll through vertically. Most pop up a simple pair of up and down arrows to change a value - the level of bass boost, for example - or provide a tick box. In each case, it's clear what you have to do and the effect of changing a setting is immediate.
I mentioned the D2's audio enhancement options just now, and boy this player has the lot: bass boost, 3D sound, a stereo widener, customisable five-band EQ with numerous pre-sets, a balance setting, something called BBE which makes "clearest music", and an MP3 enhancer that claims to regenerate the frequencies the compression codec strips out.
There's enough here to keep the most hardened audio tinkerer happy fiddling to find the best sound setting. I'm more of a 'good enough for rock'n'roll' guy, so I was most happy with the bass enhancement - well apart from the very obvious click you hear when it kicks in. I tried the rest, but I can't say I noticed any significant benefit with the BBE, MP3 enhance and 3d sound settings. Maybe better ears than mine will appreciate them more. Whatever, it's surely better to have such options to personalise the sound you hear than not.
Sponsored: Minds Mastering Machines - Call for papers now open