Readers rate Nokia's free Smart2Go satnav app
Have your say
What I also did was spend money on the upgrade already. I started playing with the planning functions and it seemed straightforward enough for an experienced user of half a dozen previous GPS systems. I don't think the user interface or address entry system is quite up to TomTom standards, but not much worse than previous first versions.
'How much money?' I hear you cry. Well not too bad, but not peanuts either. For UK and Ireland, it's £4.27/€6.40 (one day's usage), £5.26/€7.90 (30 days), £39.50/€60 (one year); and £46.09/€70 (three years).
I went for the 30-day - only a pound more than the one-day licence. You can pay four ways, either on you phone bill - phone sends premium rate messages but charges £6 not £5.26- or by credit card. I tried the text message way but it threw up an error so I paid by Visa instead. An email contains you proof of purchase and your license code which will be needed if you reinstall or change devices - suggesting a transferable licence.
So what happened next? Basically, I crashed it and had to do a hard reset. I won't go into the hows as I just got a bit punchy and kept pressing buttons, but I managed to get it stuck on the stop over addition section and back/select didn't work. That said, after the reset it has behaved perfectly - remembering my last entered destination - letting me run it and plan and start to navigate a route with no problems.
BTW, the XDA Mini S only has a 200MHz processor with small available memory so getting it to lock up isn't that hard so I won't hold it against the software till I have tried it a bit more.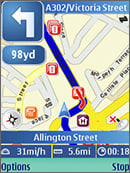 What I haven't done is tried to drive a full route or test the re-routing functions as it's 11pm and driving round in the dark playing with a new satnav is dangerous. So for now just first impressions. The pros:
It's free to play with...
...so if nothing else you can see where you are on the map - either moving or the map stays stationary and the icon moves.
It lets you search for addresses, post codes (seven-digit ish), locations, POIs (some are built in, I haven't found out how to add them yet) and plan a route.
The map is zoomable so searching by hand scrolling the map is easy.
Multiple stops can be planned.
As for negatives:
Data costs could be high, although to be fair Nokia have tried to keep it down with the map manager app.
Not exactly a fast acting program, as phones are not usually blessed with clock cycles this could be a problem and I'd like to see how it behaves on the S60 phones and on a high spec WM5 unit.
As for the upgrade costs, well £6 for a 30-day trial won't bankrupt me and £47 for three years doesn't look too bad either as the maps could theoretically be constantly updated (speed cameras database?) even while on the move.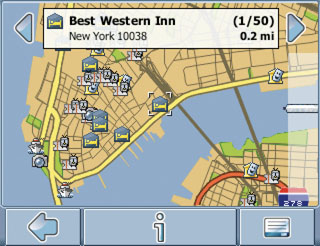 Sponsored: Minds Mastering Machines - Call for papers now open