Good Mobile Messaging 4.9 push email client
Very 'Berry?
You can choose whether the Email app displays a message preview panel a la Outlook, Thunderbird etc., but you can't change how much of the screen it takes up. On the E61 you get a couple of lines of message and three email headers if you select the two-lines-per-header option, or more if you have one header per line.
Inviting participants to meetings automatically sends an email to invitees, but adding more than one person involves multiple selections of the Add Invite... menu option. Well, it does until you realise hitting the comma key automatically adds a recipient. In fact, there are a stack of such keyboard shortcuts, but you'll have to visit the aforementioned Quick Tips to find out what they are - unless you hit upon them by mistake, of course.
The apps may be separate from the host OS, but they do tie in where necessary. Contact entries' phone number can be clicked on to dial, for instance, and URLs will invoke the phone's browser. There's even cut and paste, though it's all done through menus not shortcuts, so it's a little cumbersome.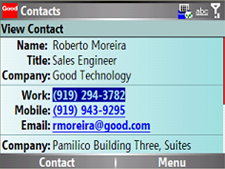 Good's done a decent job of adapting its code to the E61, which unlike the Palm or Windows Mobile-based devices GMM originally supported doesn't possess a touch-sensitive display. Still, there are times when you'll see a panel pop up, usually when you have an attachment to view, that clearly has an exit box that on any other device you'd dismiss with a tap of the stylus. The Treo 750v, with its OK button, can get rid of these panels with a single key press, but the E61 couldn't.
Speaking of attachments, GMM lists them with tiny icon. Most files can be viewed in a rough and ready text, or you can choose to download each attached document to the device or read it as is in a viewer app if you have one. As the file's transferring, GMM displays an inline progress bar. While a file's downloading, you're free to go and read other messages or even exit the app. If you're in any GMM app, a popup panel will appear to tell you the file's ready for you. However you choose to view the attachment, it still has to be downloaded to the phone, though the text view mode downloads the files in chunks.
Verdict
GMM's pitch is bringing the benefits of push email and personal information to a range of devices, not just the ones RIM makes. And that means you have the freedom to change hardware at a future date and retain the Good look'n'feel. The downside is that look and feel: it's basic and functionally a long way behind the PIM and email apps integrated into today's smart phones and PDAs. That said, it certainly works well. But if you're used to using a device's own apps, GMM feels like a step backward. GMM's server side may appeal to IT departments, but the client needs sprucing up if it's to win over end-users.
Sponsored: Minds Mastering Machines - Call for papers now open

Good Mobile Messaging 4.9 push email client
Push email on the device of your choice...
Price:
Five-licence 'starter pack': £1,093 RRP