Wal-Mart online service misfires, as iTunes readies video for Europe
What's wrong? Where do we start ...
Analysis There are so many things wrong with Wal-Mart's attempt to break into online video downloads this week, that we're not sure whether to write a long diatribe denouncing it, or if we should just list a few details and get it over with.
There has virtually never been a giant in the physical world that has gone on to become the giant in the online version of that same world, and the reason is always that whatever the company launches, it is trying to defined what it already has instead of replace it.
Video downloads will replace the DVD. Period. It's just that no-one is quite sure how long it will take for it to happen. So offering a service with quotes from the launch manger that talk about using it to bring people into the Wal-Mart store, suggest that Wal-Mart, the world's biggest retailer of DVDs, is thinking mostly about stopping the online revolution from happening rather than making it happen.
Back in November we admitted to being baffled by a film download service tied to the purchase of a DVD from the store. Well that at least has changed. The online version can be bought on its own, OR you can download it and get the DVD in the post to you as a back up.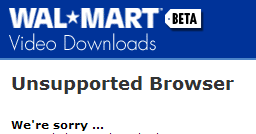 But it's still Microsoft formats only, working on a PC or PlayForSure Microsoft player, and it is limited to the US, and the web site simply slams the door unceremoniously on anyone from outside.
But if we were to point to one thing it would be price. Film download prices are download to own, and range from $12.88 to $19.88 on the day of the DVD release with older movies starting at $7.50. TV shows start at just under $2.00 an episode, the same as the iTunes pricing.
Taking the film Superman Returns as an example we find that the download can be bought for $14.88, and that this includes a portable playing file and a PC file. The DVD at the Wal-Mart online store is priced at $19.87. It can be bought more cheaply at Amazon, but not an online version.
So there's a difference of $4.99 between the two, and one needs physical delivery, and needs to go through a physical manufacturing process. Try to use the site and you get a clear idea of how the physical and the digital are going to work.
Ask for Donnie Darko and the video is only available as a DVD, and Wal-Mart can send it to you, search for King Kong and you get the same result, The Lord of the Rings and all three movies are the same, DVD only.
An online only service would go to the trouble of negotiating for these items, not offering to post you a DVD.
We put in Potter, thinking that all the Harry Potter films would emerge, but it threw up films where someone in the cast had the surname Potter. One such was Fierce Creatures, a film made 10 years ago, and yet it is still priced at $12.50 for download only. Amazon had it on sale for anywhere from $5 to $10.
Such films are already fully exploited and need to be on the books at something like £2.50 rental or $6 to buy before anyone is going to take an online service seriously.
The Long Tail material, that which is old enough to be out of print and not worth holding physical stock for, is well served by the second hand market at Amazon, with physical DVD's at customer homes up for re-sale, and to address it properly, the films need to be at a viable price level and plenty of them.
Sponsored: Minds Mastering Machines - Call for papers now open