Shuttle XPC X200M mini PC
Shuttle revises its small form-factor X100 by... um... removing the AMD GPU
Add in Windows XP Media Center Edition, remote control and a copy of PowerDVD 6, and Shuttle has given you everything that you need to watch TV and movies, and there's certainly plenty of room on that 300GB hard drive for recording as many TV shows as you may fancy. We found that the Intel graphics handled TV and movie playback with aplomb, although CPU usage could spike up to 50 per cent. However, the graphics struggled to load some web pages smoothly. The payoff is that the X200M is incredibly cool and quiet even when it's working hard. Indeed, when the Shuttle has awoken from power-saving mode, the Samsung hard drive sounds positively raucous as it spins into action. By any standard the Samsung is a quiet drive, which just goes to show how the Shuttle is near-silent.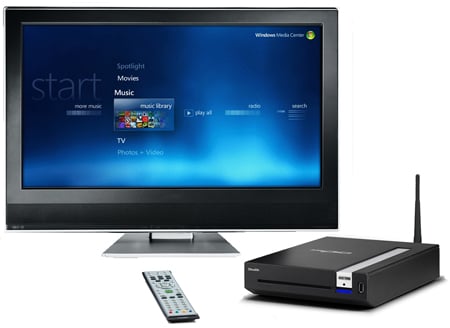 We have a couple of minor cosmetic issues with the implementation of the various bits and pieces. The main casing of the X200M is sleek, attractive, smart, stylish and small so you have to work quite hard to hide the power brick, network cable, TV antenna, monitor/TV cable and speaker connections from view, but that was also true of the X100HA.
The other point is specific to this model. With the X200M stood vertically in its holder the wireless aerial has to stick out to one side as the TV antenna connection is directly above the aerial. Other than that, we loved the X200M to bits. Granted the price has risen to an uncomfortable level, but Shuttle has built a media center PC that deserves a place in any well-heeled living room.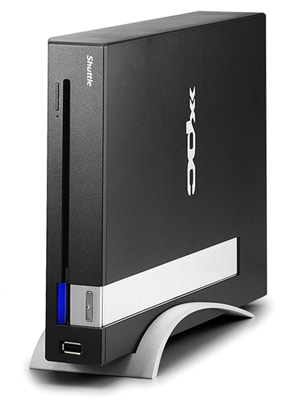 Verdict
The changes that Shuttle has made to the X200M over the machine's predecessor are subtle, yet significant. This is a specialised media centre PC that is hopeless for games, but fulfills its intended purpose as a DVR superbly, and it looks absolutely lovely.
Sponsored: Minds Mastering Machines - Call for papers now open

Shuttle XPC X200M mini PC
Slower than its predecessor, and more expensive, but still a fine media centre system...
Price:
£845 inc. VAT/€1,285 RRP