Shuttle XPC X200M mini PC
Shuttle revises its small form-factor X100 by... um... removing the AMD GPU
Review We gave a brief rundown of the Shuttle X200 at the beginning of January and now it's time for a proper look at the new media centre PC. Externally, the X200 is near-identical to the X100HA that we previously reviewed as it uses the same sleek case. So it's still absolutely tiny, with dimensions of 21 x 30 x 6cm.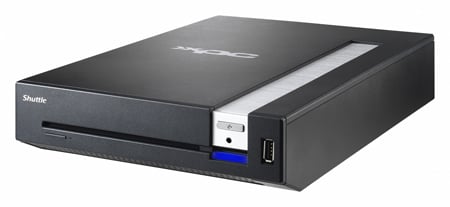 The small form-factor means that laptop components are used throughout, with the exception of a 3.5in desktop hard drive that is housed in a compartment on the bottom of the unit. This is a very practical approach as laptop parts are engineered to use a minimal amount of power while shedding very little heat, which is just what you want in such a compact case. However, it also means that upgrades won't be a practical proposition once you've configured your original X200M, and you'll be well advised to consider the Shuttle as a closed environment.
The specification of the X200M is very similar to the X100HA, although our review sample had a few optional extras tacked on, so we got 1GB of PC4300 RAM, a 300GB Samsung hard drive, Shuttle's XPC 802.11b/g wireless module and a couple of monitor adaptors. The X200M has a single DVI output but Shuttle included a DVI-to-HDMI adaptor along with a split cable that offers both DVI and VGA connectors, all of which covers most of the likely display options.

Graphics are the most obvious change in the new model. The X100 we reviewed had ATI Mobility Radeon X1400 graphics with DVI and s-video outputs, but the X200M uses the GMA950 graphics core integrated into the Intel i945GM chipset. On the face of it this is a step backwards as you lose the s-video output along with a fair chunk of graphics horsepower and with any pretence of support for Shader Model 3.0, but as we'll see there are two sides to this particular coin.