One feature the Zune offers above other players is wireless music sharing via built-in Wi-Fi. Find someone else with a Zune and you can swap tracks with them without the need to hook either player up to a PC. It's extremely fast too - transferring an album of 12 tracks took less than one minute 30 seconds.
However, music sharing this way is not without its (deliberate) limitations, the main one being that transferred tracks can only be played three times for up to three days, after which the tracks are rendered useless. You can even share some subscription tracks, although it's up to the record label whether it allows this or not and you won't know whether you can share a track until you try and send it to another Zune.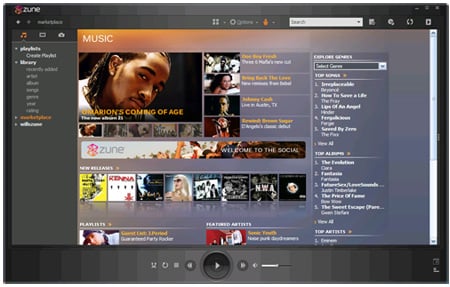 Size-wise the Zune is a little bulky, especially when compared to an iPod, which is much thinner. It's only currently available with a 30GB storage capacity and battery life is only around 13 hours - again, the iPod does better on both counts. I also experienced issues with the build quality of the unit - the Hold switch at the top was easy to detach, although this could be a specific problem with my unit.
Verdict
The Zune is a very good debut with great features, such as the large screen for video and the wireless music-sharing capability. It's also reasonably priced compared to its fruit-branded rival. It still has some way to go, though, if it wants to take a significant amount of market share away from the iPod: the restrictions on shared music need to be relaxed and build quality could be improved.

Microsoft Zune wireless music player
A good portable music player with a couple of novel features, but it's not an iPod killer yet...
COMMENTS
Disappointing
Overall i found it disappointing
Good: The mpeg4 playback was good & I didn't have to convert to wmp. It sounds good as the above comments mentioned
Bad: The 'squirting' feature only works on about half of the songs available on the zune marketplace, at least that's what I've found. The zune points system just as the xbox 360 system is a joke. It's too big... I also just heard about MS paying Warner Brothers per Zune sold!? WTF?
I bought it to replace an aging iPod but regret it now. The limitations exceed its usefulness.
Sound Quality
I, believe it or not have both an iPod and a Zune for work and whilst the iPod is an icon of design and all that blah I do have to say that the sound quality out of the headphone socket is far superior to the iPod. Obviously I don't use the in-pack headphones because they are rubbish but I haven't gone mad either, I am just using some £30 Sennheiser CX 300's.
The Zune sounded a lot more musical to me and better paced than the iPod.
At the end of the day what is more important? The sound quality or the UI?
Long live the Zune :)
I have a Zune at home and found the build quality to be good. The only thing was that the case supplied was not very useful and so I purchased another case which better protects the device while continuing to keep usablity.
The Zune will also read MP4 content as well as WMV & the fact I can dump pretty much any type of music to it is very useful.
Ripping CDs give you the option to save in DRM format or a standard MP3 or WMA. I would give it 9/10.