Microsoft Zune wireless music player
Microsoft attempts to win over the iPod-infatuated
Review After five years Microsoft has decided to combat Apple's domination of the portable music market head-to-head with Zune - a hard drive-based MP3 player with full colour screen and built-in Wi-Fi music sharing...
Zune is only available in the US at the moment - and Microsoft is keeping tight-lipped about when the player will actually be launched in Europe. The current rumour mill suggests anytime in the next few months all the way up to Christmas.
Although there's nothing stopping you from picking one up if you happen to be in America and bringing it back, you won't get the full experience. While you'll be able to load your own music and videos onto it without any problems, you can't access the Zune Marketplace music store, which is a shame since it offers one feature iTunes doesn't: a Napster-like subscription service.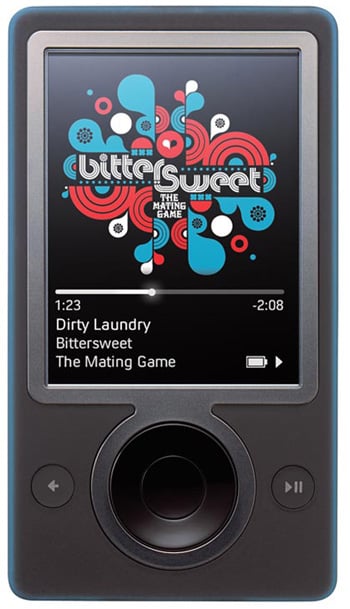 For a flat monthly fee of $15 (£8) you can download as much music as you like and take it with you. You're free to listen to the music as long as you pay the subscription fee. Stop paying and you'll have to stop playing.
You can also buy individual tracks from Zune Marketplace, but you have to pay in Microsoft Points, something Xbox Live users will be familiar with. Basically you buy points in your local currency and then spend them in Zune Marketplace or Xbox Live. A hundred points will set you back $1.25 in the US and 85p in the UK. Individual tracks cost 79 points - which works out at $0.99 - the same price as iTunes in the US.
COMMENTS
Disappointing
Overall i found it disappointing
Good: The mpeg4 playback was good & I didn't have to convert to wmp. It sounds good as the above comments mentioned
Bad: The 'squirting' feature only works on about half of the songs available on the zune marketplace, at least that's what I've found. The zune points system just as the xbox 360 system is a joke. It's too big... I also just heard about MS paying Warner Brothers per Zune sold!? WTF?
I bought it to replace an aging iPod but regret it now. The limitations exceed its usefulness.
Sound Quality
I, believe it or not have both an iPod and a Zune for work and whilst the iPod is an icon of design and all that blah I do have to say that the sound quality out of the headphone socket is far superior to the iPod. Obviously I don't use the in-pack headphones because they are rubbish but I haven't gone mad either, I am just using some £30 Sennheiser CX 300's.
The Zune sounded a lot more musical to me and better paced than the iPod.
At the end of the day what is more important? The sound quality or the UI?
Long live the Zune :)
I have a Zune at home and found the build quality to be good. The only thing was that the case supplied was not very useful and so I purchased another case which better protects the device while continuing to keep usablity.
The Zune will also read MP4 content as well as WMV & the fact I can dump pretty much any type of music to it is very useful.
Ripping CDs give you the option to save in DRM format or a standard MP3 or WMA. I would give it 9/10.