Samsung chip tweak to 'boost LCD TV reliability'
Samsung has developed new chip-on-film display driver circuitry which, it claims, could yield longer-lasting large-size LCD TVs. The new circuit package is much better at ridding itself of heat than current chip-on-film devices are, the company said.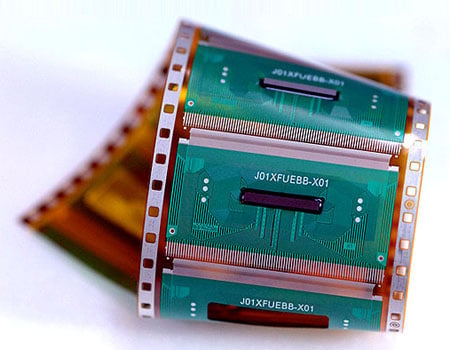 The circuitry is 20 per cent more efficient at heat dissipation, Samsung claimed. That makes it inherently more reliable, the company added, and because heat limits the number of data channels each display driver chip can handle, the fewer the driver chips needed to control the screen.
Today, a screen could require as many as 14, 414-channel display driver chips. Samsung new file package allows each chip to handle 720 channels, so only eight chips are needed.
Samsung said display driver chips fitted with the new, "thermally enhanced" chip-on-film (TECOF) package will be ready to ship next quarter to the company's own LCD TV division and other flat-panel display makers.
Sponsored: Minds Mastering Machines - Call for papers now open