Microsoft nixes stripper ban for Vista launch
Show 'em if you got 'em. And El Reg does
The old Microsoft used to ban strippers from interrupting its product launch events.
In Sept. of 2000, Microsoft unveiled a fleet of new server software products at San Francisco's Warfield Theater - a music venue in a pretty grimy part of the city. To protect its audience from filth, Microsoft bought out the Crazy Horse strip club next door, closing down the boob parade for a few hours. The new Microsoft has cast off such Puritanical restraints, opting instead to promote the Vista operating system alongside breasts whenever possible.
Have a look for yourself here, so long as timid coworkers aren't around.
We were mistaken in assuming that Microsoft would pull back from this publicity stunt. It's shopping Vista in front of Second Life inhabitants at four sex-charged venues - a lesbian sex hangout, two gentleman's clubs and a strip club-cum-whore house.
This pornographic nonsense was the brainchild of Microsoft's European Enthusiast Evangelist Miel Van Opstal.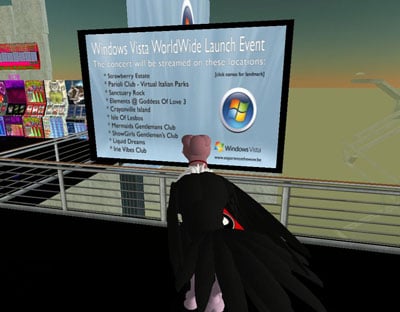 Along with promoting sex clubs, Van Opstal made sure to draw attention to his own spot in Sadville - Strawberry Estate, which is not at all like Molestation Grove.
Despite our reservations, Microsoft can have its Vista sex clubs. After all, how can Mac OS X compete with naked women offering themselves up from atop pose stones?
The Vulture Takes Flight
While Microsoft has gone titillating, The Register has gone respectable with its entry into Sadville.
It's our pleasure to reveal the winner of our design a Second Life avatar logo contest.
Step up, Sean Parsons - a wonderful reader from Alberta.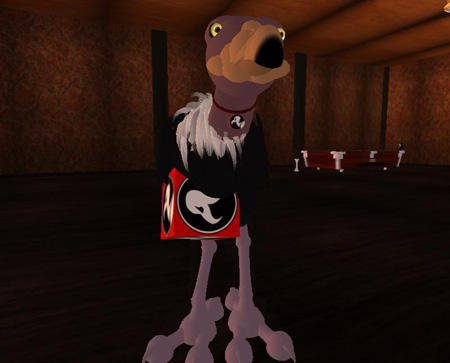 Parsons hand-crafted an exquisite vulture replete with Register logo necklace - or as we like to call it - birddallion. Our avatar can hop about, do a dance, open and close his beak when speaking and flies like no other avatar in the game.
For his efforts, Parsons will receive a generous package of El Reg merchandise.
Thanks, Sean. ®
Sponsored: Minds Mastering Machines - Call for papers now open