Dell's CEO Rollins evicted from brass box
Dell 2.0 - 'Now shipping with less brain'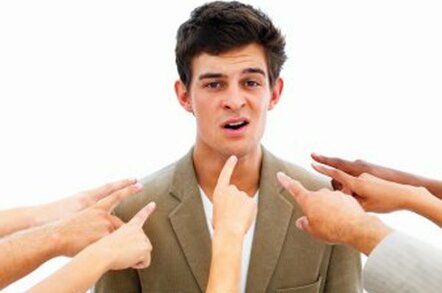 Comment Dell's siamese twin management experiment has ended with only the brand name baby surviving the surgeon's slice.
Back in 2004 when Kevin Rollins took over the CEO gig from founder Michael Dell, company officials talked up the close bonds between the two executives. The comrades shared an office, working in a so-called two-in-a-box fashion where they debated ideas and set Dell's agenda with shouts across the room. "[They're] kind of the left and right sides of the same brain," remarked an IDC analyst about Dell's brass pair.
Founder Dell, to his credit, stood by Rollins through tumultuous times. The company ceded its PC sales crown to HP, watched server growth stall, faced an accounting probe, built a reputation for poor customer service, fell behind rivals' processor technology and suffered a hefty share price drop - all on Rollins' watch. Still, founder Dell held Rollins up as the best man to lead company Dell's turnaround.
That is until today.
"There is no better person in the world to run Dell at this time than the man who created the Direct Model and who has built this company over the last 23 years," said Dell's board director Sam Nunn, as he announced Rollins' "resignation" and Dell's return to the CEO role.
Apparently, one mind is better than two after all.
But shoving all the blame onto Rollins seems to do little for Dell's underlying problems, especially when you consider that founder Dell has been tapping into the CEO's brain for the past two years sharing in all the decision making. Did only one side of the brain make mistakes, while the other side made all the right decisions?
Dell's major problem over the past couple of years has been its inability to change. The company's well refined, low-cost Direct Model seemed to reach a point where it was too fine-tuned. You cannot afford to lower the price of a PC any more when you're losing money or breaking even on every unit sold. And you can't generate high-margin software and services businesses out of thin air, particularly when you spend a paltry amount on research and development.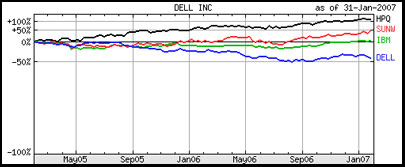 So how is it that same old, same old will deliver something new?
"Dell has tremendous opportunities ahead of it," said same old founder Dell. "I am enthusiastic about Dell 2.0, which includes our plan to provide the best customer experience, build a strong global services business and ensure our products deliver the best long-term customer value."
Dell has tried lowering costs, cleaning up its web site, spending money on more call center workers, adding a chip supplier and pushing up market into the services territory of IBM, HP and Sun Microsystems. These efforts have done little to improve the bottom line just yet. Now we find the company turning to a catch-phrase - Dell 2.0 - as a cure-all.
Investors should recoil at such talk.
If Dell really has a master Dell 2.0 plan, then Rollins and founder Dell must have come up with it while in their box. And you'd assume Rollins - the plan's architect - would serve as the perfect chap to execute on the agenda.
So, that leaves you thinking that Dell 2.0 is little more than the Direct Model pig with services lipstick and cheery customer service talk that still has more of an Indian twang than a Texas drawl. Only under such dressed up conditions does the cosmetic removal of a perfectly good, well-brained CEO make sense.
HP, IBM, Acer, Lenovo and even Sun Microsystems seem to have discovered how to cut into the soft underbelly of the Direct Model these days. The Texas beast should recognize that answering media, analyst and investors questions with the same "the model fixes all" refrain will work no longer.
So, here's hoping that founder Dell has created a replica of his University of Texas dorm room inside of his mansion. He can have a Bill Gates-inspired "think week" in the room and come up with a fresh idea to change the way computers, services or consumer electronics are sold. And, if that fails, he can bring in a few beakers, a few pounds of flesh, some CPUs and wiring and craft a new, better brain to sit next to in his box. ®
Sponsored: Minds Mastering Machines - Call for papers now open