Doctor Who Tardis USB hub materialises
Vworp! Vworp!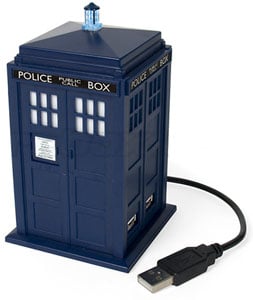 Assuming, of course, it doesn't suddenly pop off into the vortex where time and space are one, taking all your peripherals with it, we'd say this here Tardis four-port USB hub's a dinger and a must for the Doctor Who fan in your life. Now available from Firebox.com for a mere 20 quid, this hub not only flashes its light and blares out the time-space craft's famous ripping-a-hole-in-reality take-off sound. "Sheer poetry, dear boy."
Sponsored: Are DLP and DTP still an issue?