Tech industry most trusted in Ireland: survey
Government doesn't fare so well
Would you buy a used car from this man (right)? You would if he worked in the technology sector, according to a new survey.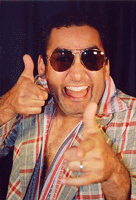 Technology is the most trusted industry in Ireland according to the Edelman Trust Barometer, an annual global survey of opinion formers. The survey found 72 per cent of Irish opinion leaders expressed a positive opinion about the tech sector. Perhaps, unsurprisingly, the insurance industry came last with just 35 per cent of participants placing their trust in the source of insurance salesmen.
"The research findings are reflective of the benefits that technology has brought to the Irish economy and society in general. The level of trust in the sector can, in part, be put down to the number and quality of jobs that companies like Google, HP, and Microsoft have created," said Mark Cahalane, managing director of Edelman Dublin.
Individually, financial or industry analysts are the most trusted spokespersons with 54 per cent approval. Doctors also fare well on 45 per cent, but lawyers and public relations executives were in poor health: scoring 30 per cent and 21 per cent respectively. The least-trusted spokespersons are athletes and entertainers with a meagre 12 per cent of participants expressing their support.
This was the first time the annual survey included Irish views. A total of 3,100 people were surveyed worldwide, including 150 in Ireland. Participants in the survey were college-educated, aged between 35 and 64, and ranked in the top quartile of household incomes in Ireland.
In order to be eligible for selection as opinion leaders, those questioned had to express an interest in media, current affairs, and politics. There were also sectoral requirements; they had to be employed by either multinationals, SMEs, professional services, media, or related industries.
The survey also analysed the level of trust Irish people place in companies and goods from other countries.
Sweden comes out on top with 65 per cent of participants' support while Mexico and Russia were at the bottom of the pile with 21 per cent and 20 per cent trust ratings. The Netherlands has the highest opinion of Irish goods with 71 per cent of participants saying they trust Irish goods. India has the least faith in Irish business with a trust rating of just 44 per cent.
Outside of industry, the survey found that Al Gore may have more sway than local politicians with Irish opinion leaders. Global warming, an issue on which Gore highlighted in his documentary An Inconvenient Truth, is seen as the most important issue for companies to address, with 65 per cent of those questioned placing it as the highest priority.
Meanwhile, with the general election fast approaching, the Irish government could only garner the trust of 37 per cent of those surveyed.
However, the Taoiseach and his chums can take some comfort in the fact that the Church fared even worse. Only 29 per cent of participants said they trust religious institutions.
Amnesty International and Greenpeace were among the top performers in the survey with 73 per cent of participants expressing trust in these organisations.
Copyright © 2007, ENN
Sponsored: Minds Mastering Machines - Call for papers now open