Nokia N800 internet tablet
It's a phone... but not as we know it...
Wi-Fi is certainly the preferred connection mechanism for the device, which will happily connect to a network, download RSS feeds and email, and disconnect, all without the user being aware. Indeed, whilst wandering around London with the N800 in my pocket it had been downloading up-to-date information without my knowledge. In a mobile phone such behaviour would be annoying, as it would probably incur network charges, but on a Wi-Fi tablet it was pleasant to have this information close to hand when I wanted it, without having to think about when to connect or where.
The Wi-Fi capability of the N800 was generally impressive; it managed to find access points that were too distant for my (much larger) laptop. However, while it was frequently able to connect to hotspots with weak signals it would equally often refuse to connect to hotspots with good signals.
Reliability is a serious problem for the N800, and would certainly test the patience of most users. The device crashed on a daily basis, especially if disconnected from a Wi-Fi connection while downloading data, something more likely with a device of this kind. While no data was ever lost, the N800 did sometimes require removal of the battery to get started again. When it didn't crash the battery life was impressive: happily staying on standby - still regularly trying to connect and update over Wi-Fi - for days and allowing hours of usage without a problem.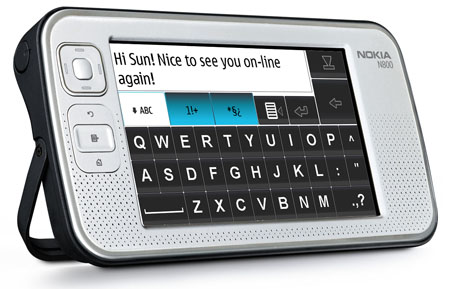 Verdict
Maintaining a connection in order to receive calls will seriously reduce the battery life and make wandering around impossible, but that must be weighed against the cost saving of not having a mobile phone. The fact that capabilities such as Skype are coming later is indicative of how Nokia sees the device; users are expected to add new software, and update what they have, so stability and functionality should improve over time.
Sponsored: Minds Mastering Machines - Call for papers now open

Nokia N800 internet tablet
The Nokia N800 is a fun toy that could possibly be the future of mobile telephony. Or perhaps not.