Exec slaps HP with pretexting and Dell hunting charges
While his ex-wife discloses HP's TV sham
The HP Way
As HP sees it, Kamb, a former Compaq and then HP executive, recruited a number of helpers during his time in Japan to form a TV and consumer electronics start-up. The helpers included some of HP's top executives such as its director of HP Labs in Japan Mark McEachern and other finance and strategy chiefs, HP alleges.
The start-up "would be separate and apart from HP, and the enterprise would design, develop, manufacture and sell flat panel televisions, monitors and other devices obtained in Japan and East Asia - precisely the kind of products and opportunities that Kamb, McEachern and (others) were supposed to be finding and developing on behalf of HP," HP alleges in its lawsuit.
HP goes on to claim that Kamb channeled HP's funds to a Japanese electronics expert named Katsumi, the former president of Dell Japan, through an LCD maker called Dinner Inc. and through a consulting firm "Imagine That." Some of these consulting fees were then returned to Kamb from "Imagine That," according to HP's lawsuit.
Next, HP alleges that files on company computers, which survived "despite some of the defendants' attempts to erase them" - show the workers and the consultant forming plans to set up a company called byd:sign, which would make LCD and plasma TVs, DVD players and other consumer goods.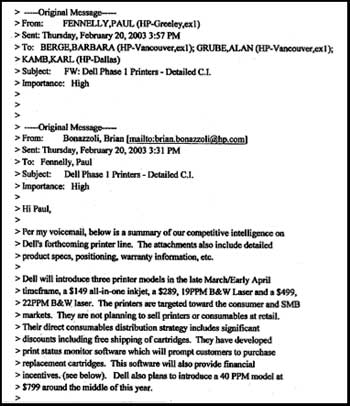 By August of 2003, Kamb had purchased the rights to the byd:sign web site, done some negotiating with the US Patent Office and incorporated the company in Texas. "Emboldened" by these moves, Kamb informed his boss that he was "not feeling the love" at HP and had started considering other options. Not wanting to let a star worker go, HP threw more money at Kamb and offered to help him "feel the love" by giving the executive more responsibility.
One month later, Kamb had both a raise from HP and funding for byd:sign. But, despite his side ambitions, he still pitched the flat panel TV business and strategy to HP executives, who "reacted enthusiastically" and planned a meeting between Kamb and CEO Carly Fiorina.
Fiorina in October of 2003 did in fact hear Kamb's ptich.
"Fiorina endorsed Kamb's proposal, and HP placed Kamb on the team in charge of developing that business strategy - unknowingly placing a fox in the henhouse," HP confessed.
Naturally, Kamb then tried to get HP to buy TVs from byd:sign, HP alleges, and started sending confidential documents to his coworkers at the start-up.
HP went on to pay byd:sign $250,000 over three months for consulting services.
Meanwhile, byd:sign started pumping TVs into the US and Japanese markets, while HP still studied the feasibility of such a move.
At the 2004 CES Show, "HP CEO Carly Fiorina publicly announced HP's intent to enter the flat panel television market. HP's display at the show included HP prototype LCD and PDP televisions, which, unbeknownst to HP, were the same televisions that had been manufactured for byd:sign with only the front bezels modified to include HP logos."
It took until March of 2005 for HP to confront Kamb about byd:sign, according to the lawsuit. The executive "denied having any affiliation" with the start-up.
Things, however, changed in August of 2005 when HP received a subpoena from Kamb's wife, who - HP was kind enough to point out - filed for divorce from Kamb citing "adultery." The subpoena asked for information relating to byd:sign, and HP finally got a clue. And now to Kamb's side.
Sponsored: Minds Mastering Machines - Call for papers now open