SanDisk V-Mate memory-card video recorder
Keep your favourite TV shows on a memory card
A good range of pre-defined recording templates for popular mobile phones are included, such as Sony PSP, PC/TV and - recently added - Nintendo's Wii. The V-Mate uses the MPEG 4 codec for all recording - as it is properly known as that. You can select a variety of bitrates to balance picture quality and storage capacity to your tast. You can choose from a range of image resolutions, from 640 x 480 down to 176 x 144, to best suit your playback device's screen size.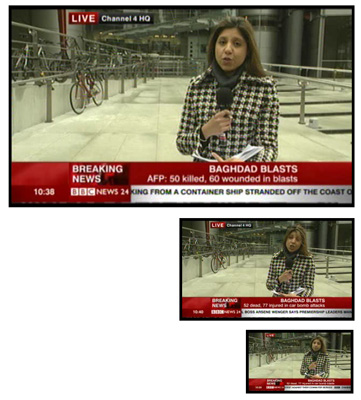 Click for screen comparison of the SanDisk V-Mate card recorder
Recording is possible in two ways. First, through a live preview window, showing when to start and stop. We found a few problems here: in 640 x 480 format, the preview screen disappears. Rather disconcerting as you can no longer see when to stop. SanDisk is aware that this is an issue and is working on a solution. When the record button is pressed twice on some VCRs, 30 minutes are recorded; when pressed three times, one hour is recorded. This function is missing from the V-Mate, and since SanDisk reckons that it could be a VCR replacement, this function really should be present.
The V-Mate shines, however, in the second method of recording: running to a schedule. Programming a recording is a doddle using the on-screen display, so anyone who can schedule recordings on a VCR will have no trouble here.
We connected a Freeview unit to the V-Mate via a third-party SCART adaptor. The V-Mate happily changed channels using its infra-red port and recorded in various formats on a 1GB SD card, all the while entirely unattended. The recorded video was clear, as was the audio, whether recorded for playback on a Sony Ericsson K800i, HP iPaq or a PC. No flicker, no bother, just quality video achieved quite easily.
Verdict
There are similar devices on the market, such as the pioneering Neuros MPEG 4 Recorder 2, but the V-Mate has the edge, thanks to a wider range of device-specific recording formats and the infra-red control. Despite the minor problems we encountered, SanDisk has created a product that allows the average user to take control and create their own content to watch on mobile devices.

SanDisk V-Mate memory-card video recorder
SanDisk's V-Mate: a v-good and v-cheap way to get video content onto your handheld
Price:
£60 (inc. VAT) RRP