Dell probes alleged Inspiron screen issue
The line's share
Buyers have begun complaining that the displays Dell installs in its Inspiron notebooks may not be up to scratch, and a groundswell of internet users are asking the computer giant to sort out the situation.
Affected LCD panels develop one or more pixel-wide vertical lines. Typically, each line will appear as a single colour or will change according to the colour of the image being displayed.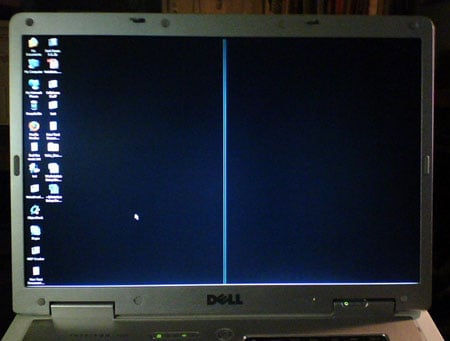 A website dedicated to the problem, www.dellverticalline.com, lists some 273 cases centring on machines bought between March and May 2005. Of all the reports on the site of faulty displays, only 28 say that Dell resolved the issue. The model most cited in the reports is the Inspiron 9300, though it's by no means the only model listed.
Did Dell get sent a duff batch of displays? Or was there an issue with the machines' construction, or one or more of its other video components? At this stage, the cause - or causes - are unknown, and Dell would only toll us it is currently investigating the matter.
Interestingly, this reporter has seen the same issue on LCDs fitted to notebooks produced by other vendors. In one case, two vertical lines appeared about three-quarters of the way over from the left-hand side of the screen. While static in location, the lines appear to move vertically, much like the 'marching ants' of an old-style drag-to-select GUI operation.
The curious thing: the lines are colour dependent and are triggered by a very narrow range of RGB values, which may differ from screen to screen. Adjust the display's gamma controls or change the image behind the lines and they can disappear, completely or in part, depending on the image - drag a window over the line to see the change. Gently tapping the screen or moving it doesn't change the display, suggesting the issue is not a wiring fault.
Some pictures provided by Dell owners suggest physically damaged displays, but others don't.
Dell's clearly not the only company to experience this issue. Not long after Apple began shipping the MacBook Pro in February 2006, early buyers reported. Mac troubleshooting site MacInTouch lists numberous reports from buyers who've experienced the issue.
Luckily for them, their machines were in the warranty period. However, quite a few folk complaining about the problem in Dell laptops said they didn't notice the fault until after their warranty had expired. Dell nonetheless told Reg Hardware they should contact the company's customer services operation if they are experiencing the problem.
If we hear more from the company, we'll let you know. ®
Sponsored: Minds Mastering Machines - Call for papers now open