Net wags pile into Jade Goody
Big Brother housemate crucified online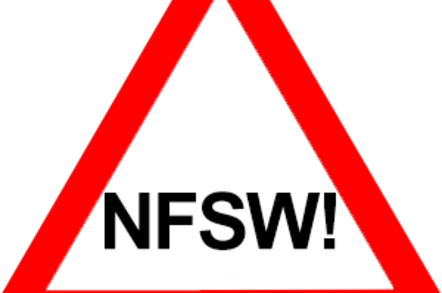 NSFW With a certain terrible inevitability, internet wags have wasted no time making plain their opinion of Celebrity Big Brother contestant Jade Goody - currently making press worldwide for her alleged racist treatment of Bollywood star Shilpa Shetty.
For starters, try Jade's MySpace page, packed with fascinating insights:
SORRY EVERYONE I CAN'T STOP - I'M IN THE CELEBRITY BIG BROTHER HOUSE DESTROYING MY CAREER BY BEING A DUMB RACIST FUCK. WISH ME LUCK! to all the people going on about my Marathon - I did honestly train for weeks before it - honestly - and I hardly did anything like Chinese Takeaways, Curries, Drinking or smoking.Plus, I jogged loads and the only time I had a treat like a Chinese the press took photos. Like I said, I didnt know what miles were and nobody bothered telling me, so that was why I had to give up. Loads of people have given up as well as me so I don't see why I should get all the blame. ANYWAYS AT LEAST I DIDNT GO TO THE TOILET IN ME PANTS LIKE THAT DIRTY ROTTEn PAULINE RATCLIFFE - MINGER! My book is doing really well. I didnt write it but all the stories are true and yeah I've had a hard life but at least my storie proofs if you can do it anyone can do it.
"Jade" adds:
I'd like to meet any philostorical caracter from history - maybe they could teach me to be brainy (hahaha) so I think maybe Jesus, Winston Mandela, Steinstein and that wheelchair bloke (not Superman ) would all be definitly worth talking to. And eskimos. And I love Enoch Powell.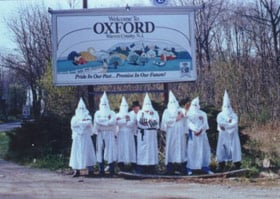 Down at JadeGoodyOnline.com, meanwhile, the fan forums are packed with praise for the battling Brit, including this post entitled "I just want to say about Jade Goody she is amazing":
When I got anorexxia last yeer she helped me froo it and for that I is tocally greatfull.

I lost my Mum as well last yeer, in Tescos, but fownd her agen cos of Jades strengf and dignitty. She was by the tampax aisle. Should have nown, she love fanny rags my Mum.

God bless jade and dont let the white b*stards get you down Shilpa
And in case you're wondering what the picture on the above is all about, we should explain it's of Jade "posing with fans at the Oxford launch of her new piss in a bottle range..." More here.
We'd like to say at this point that we at Vulture Central in no way condone this kind of behaviour, and urge netizens to show tolerance and constraint until a proper show trial and Iranian-style execution (Celebrity Come Dance the Tyburn Jig - live on Channel 4, Saturday, 9pm) can be arranged. ®
Sponsored: Minds Mastering Machines - Call for papers now open