LaCie Ethernet Disk RAID 2TB entry-level NAS box
Nice price, shame about the performance?
The default IP address - 192.168.0.101 - of the Ethernet Disk RAID initially clashed with another device on our test network causing some minor problems. This is down to the old firmware, version 1.1, on the review unit. Future firmware versions will obtain an IP address automatically so this problem won't arise from the end of January when LaCie will be shipping the next firmware release, version 1.3.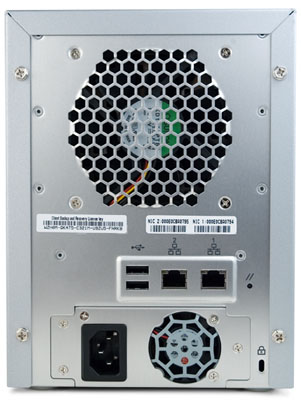 There have been many significant changes made to the firmware since Intel began shipping this unit last year that show how much the system has been developing. At one stage it couldn't accept files larger that 4GB. The web-based administration utility was originally only accessed using HTTP and not the secure HTTPS. Active Directory was not supported until recently. Active Directory can take over all accounting on the NAS, which is beneficial and less of a headache. There's a good level of support for operating systems connecting to the NAS ranging from popular ones, Windows 2000/2003/XP to Linux from Kernel 2.6 upwards, with Mac OS X.
Down to essentials. We found transferring files let the system down tragically with the slow speed of transfer rates, even over Gigabit Ethernet connection. This is all due to the RAID system being controlled by software rather than dedicated hardware thus creating substantial overheads and a burden on the system. Although this is what you would expected in an entry-level platform, we were still quite surprised how much of an impact it had. With only 6.5MBps transfer speeds at Gigabit level on just one file, with the LaCie Ethernet Disk RAID being in a RAID 5 with hot spare configuration. This severely outweighs its usefulness as a main network-based storage device, as we even saw through the web-console the processer was running at 100 per cent capacity just for this - a cause for concern.
Verdict
As an entry-level NAS product LaCie's Ethernet Disk RAID appears to hit all the right notes. It offers a good potential amount of disk storage, an easy to use administration web-console along with a good range of bonus features found in the iSCSI-based backup, among others. What lets it down is the transfer speed.
Still, in a small company and used just for additional rather than primary storage it will be adequate system and an affordable one. You'll be hard pushed to find a more-cost effective way of adding 2TB of storage to the network. ®
Sponsored: Minds Mastering Machines - Call for papers now open

LaCie Ethernet Disk RAID 2TB entry-level NAS box
LaCie's SMB NAS offering not to NASty after all, for the cost...
Price:
1TB: £676 inc. VAT; 2TB: £875 inc. VAT RRP