Devolo dLAN 200 AVdesk HomePlug AV network adaptor
HD-ready wired networking over your home's powerlines
I used two dLAN 200 AVdesk units to connect a MacBook Pro and a Sony Vaio notebook between upstairs and downstairs rooms in my apartment. By necessity, the upstairs box was connected to a small extension cable. Powerline Ethernet adaptor suppliers warn against using multi-socket boards, but I had to and so, I suspect, will many other users. The key, I'm told, is to make sure the board doesn't contain surge-protection circuitry - that's the killer. For testing, I used a simple two-socket extension cable with nothing plugged into the second socket.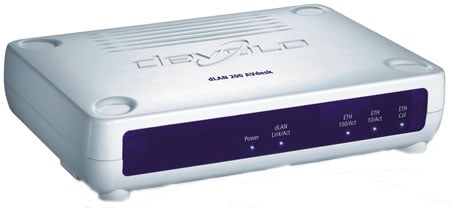 First of all, I shared a folder on the PC and used it to copy almost 4.5GB of data across the network. Windows' SMB file-sharing system isn't the most efficient of protocols, and the data took 20m 12s to transfer, or 29.44Mbps. That's rather better than the 20.86Mbps I got from Devolo's 85Mbps product.
I also used the open source network testing tool iperf to measure the link's TCP bandwidth and got 43.5Mbps - just over the guaranteed minimum. Compare that to the 11.6Mbps I got from my 802.11g wireless network - in the vicinity of six other WLANs - using the same test.
Using the open source media playback and streaming application VLC, I was able to stream a 1080i HD video in MPEG 2 from the PC to the Mac with no trouble at all. Simultaneously streaming a standard-definition video from the Mac to the PC was likewise smooth at both ends. Replacing the SD stream with a second 1080i HD stream was less successful, causing occasional distortion to the Mac's incoming stream, but plenty at the PC end.
To be fair, that was more to do with the processing burden placed on the three-year-old Vaio than a network bandwidth limitation. With a more powerful processor and a more up-to-date GPU, the PC wouldn't have been so handicapped. Indeed, I've seen the Devolo boxes demo'd steaming two HD streams and a SD stream simultaneously, albeit on a simulated real-world room-to-room powerline link rather than the real thing.
Back to my results, compare that to streaming the HD over my 802.11g WLAN via an access point: I couldn't get the HD to play beyond the opening frame. The 85Mbps Devolo boxes managed a single SD stream with no problems but two SD streams together yielded occasional picture break-up. Swapping one SD stream for 1080i HD content produced an unwatchable, broken picture.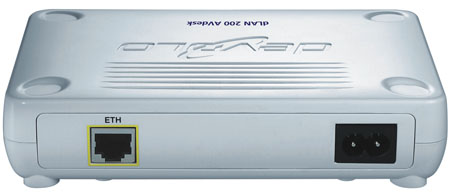 You may fare better, because so much depends on the quality of the electric cabling in your home or office and what else you've got connected at any given time, though I found the network to be pretty robust with a range of household appliances plugged in and operational. The problem is, how are you supposed to know what you'll get before you buy and try?
More importantly, of course, is the extent to which you expect to be sending HD content around your home. Devolo's 200Mbps product is slightly more expensive that its regular 85Mbps kit - a two-unit starter kit costs £180 for the HomePlug AV version, £120, for the older standard - but the 60 quid difference isn't exactly bank-breaking. But if you don't need to, why pay it? For example, 85Mbps is entirely adequate for internet browsing and network-level file-sharing, if you're finding you WLAN's airspace is too crowded, or you need to connect a wired-only device such as Sling Media's Slingbox in one room to a broadband link in another.
Verdict
Devolo's dLAN 200 AVdesk brings solid, standards-based HD-ready content streaming to the home via mains wiring. But if your hard drive's not packed with HD video you want to send to your TV, you may want to wait for technology to get cheaper. ®
Sponsored: Minds Mastering Machines - Call for papers now open

Devolo dLAN 200 AVdesk HomePlug AV network adaptor
HD-capable networking comes to home mains wiring...
Price:
£100 inc VAT per adaptor, or £180 inc VAT for two-unit starter kit RRP